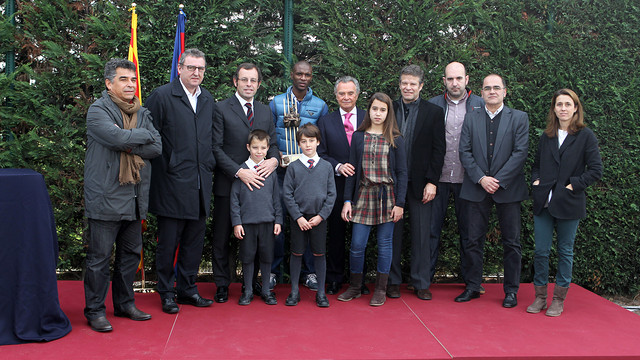 The Frenchman was named the winner of the Aldo Rovira award, the award distinguishes the best Barça player of the previous season. The jury is made up of President Rosell and representatives of the Catalan press
"I want to say thank you. This is a great satisfaction and I am very grateful to those that picked me for the award. I have experienced difficult times, but I never stopped fighting … all of my teammates have helped me, as well as my family," said Éric Abidal when he was given the Aldo Rovira award.
Leo Messi won the first two editions of the award.
The award ceremony was attended by Aldo Rovira's father, Josep Lluís, who explained that the winner was selected by "unanimous decision" and that "from the very beginning, presidents Laporta and Rosell have given us their full support." In addition, Josep Lluís went on to praise FC Barcelona's manager, Tito Vilanova, who was also at the ceremony: "You're breaking records. I find it difficult to remember games as good as the ones you play."
Sandro Rosell explained what the award means to FC Barcelona: "For FC Barcelona it's a great thing that this award is given out. Abidal represents what we want to be and the jury selected wisely." The president of the Club went on to say that "this award united Aldo Rovira and Abidal … keep this trophy in an important place because it's an award that represents a person that we all loved."