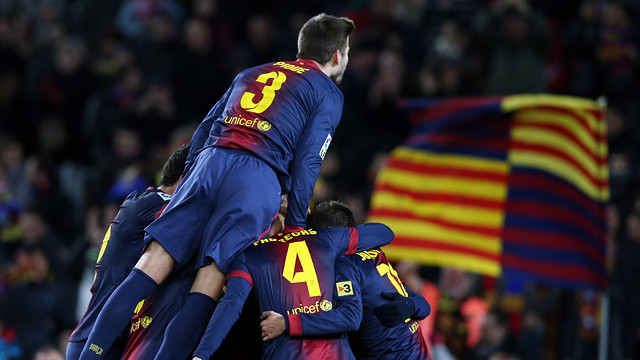 With 13 victories and one draw, the team led by Tito Vilanova break the mark set by Real Madrid in the 1991/1992 season for the best ever start to La Liga
In the first 14 matches of La Liga, Barça have scored 48 goals (3.42 per match) and conceded 16
Tito Vilanova's Barça have made history in La Liga. Never before has any team won 13 of their opening 14 matches in the domestic competition. After tonight's victory over Athletic Club, Barça smashed the record previously held by Radomic Antic's 1991/92 Real Madrid. Barça equalled Real Madrid's record last weekend when they defeated Levante at the Ciutat de Valencia. But the Blaugrana, led by a brilliant Leo Messi and Andrés Iniesta, showed this evening that they don't want to share the record with anyone.
The Blaugrana have scored 48 goals and conceded 16 in their record-breaking start to La Liga. In fact, Barça's goal stats also beat out Antic's Madrid. Real Madrid scored 35 goals and conceded 7 in their opening 13 matches of La Liga.
Tito's record
Tito Vilanova admitted this Friday in his pre-match press conference that the never thought the team would put up such magnificent numbers at the start of the season. On matchday 10, his team surpassed Van Gaal's Barça, who up until that point held the Club record for the best start in the domestic competition. Four weeks later, Vilanova not only built on the Club record, but he broke La Liga's all-time best start.
In addition, Vilanova has broken another record. In the 2010/11 season, Barça reached matchday 14 with 37 points – 12 victories, 1 draw and 1 defeat – thus equalling the Club's best start in the Liga. But this Saturday, in Vilanova's first year as Barça's head manager, the team reached matchday 14 with 40 points – 13 victories and one draw.