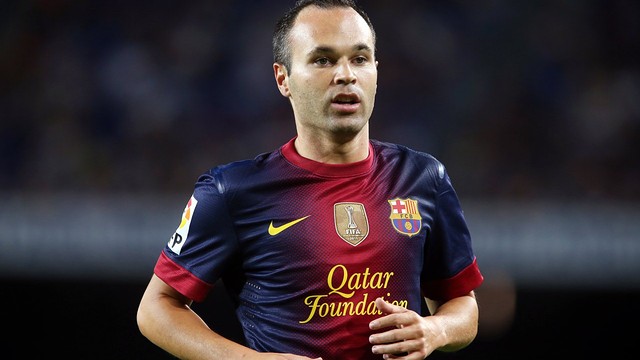 Iniesta says he feels "happy, strong and fast" and admits that he's proud to be a Ballon d'Or finalist
"Eric Abidal, an example for us all and for anyone who is suffering from such an illness"
"Tito Vilanova is our coach, our leader and we the players have to do is respond to what he says"
"My desire is to retire at Barça, where I started and where I learned everything"
Andrés Iniesta is happy to be playing football at FC Barcelona. He adds that he "plays to be happy and not to win titles". Iniesta, in his native La Mancha for Christmas, was speaking to Catalan radio station RAC 1, where he said that "my personal wish is to go out onto the pitch and then come home happy .. I feel strong happy, strong and fast." On being nominated for the Ballon d'Or, he said "I am there, so I do have a chance. I don't have to beg forgiveness for being there. I'm proud of it".
Liga not over
Turning to La Liga, Iniesta doesn't think the title race is anything like done and dusted. "If we start believing that we can't lose, then it will surely happen. From January until the end we are going to have to treat every game like a final, because we are in an unimaginable position for this stage of the season. We can't let it go, but there's a long way to go and we shouldn't get too confident".
Tito the leader
Andrés also said that Tito Vilanova "is our coach, our leader and we the players have to do is respond to what he says". The news of his illness came as a shock, and "we just hope that he's okay and gets better, and returns as soon as he can … Tito knows he has all of our support and in such a difficult time, this gives us more strength than ever to fight for someone who's going through a difficult time".
The Barça midfielder is similarly impressed with his team mate Eric Abidal, who he considers "an example for us all and for anyone who is suffering from such an illness".
Andrés Iniesta is only thinking about FC Barcelona right now and reiterated what he has always said, namely that "my desire is to retire at Barça, where I started and where I learned everything. The only thing that will determine it is the performances I can offer the team".