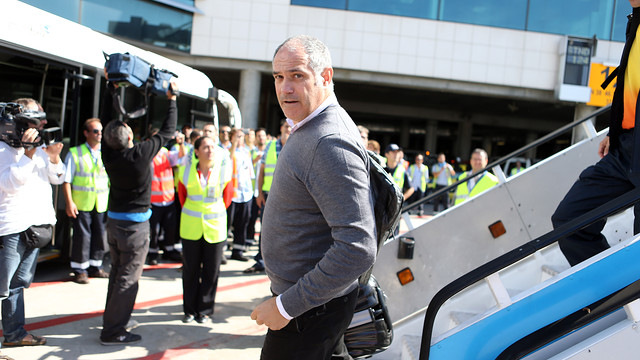 The FC Barcelona director of sport has spoken about the Barça style that is setting new standards around the world, and has looked back the new manager's first few months in charge
"I don't judge him on his results. Tito's strength for me is the way he has developed the idea and the way he makes decision in difficult situations, such as fielding Adriano at centre back against Madrid."
It was Andoni Zubizarreta who proposed Tito Vilanova as the new first team manager. In an interview with El Pais, the FC Barcelona director of sport has spoken about the Barça style that was masterminded by Guardiola and consolidated by Tito. "We're in good hands", he commented, highlighting Vilanova's strong personality and confident methods.
Guardiola had four incredible years at FC Barcelona, winning 14 titles and also the approval of pundits around the world thanks to his team's amazing style. Zubizarreta knew exactly what to do when Pep left the club. "It was worth continuing with this unfinished idea of football, to make use of some winning players, and to stay faithful to the style that has made such a wonderful example of our club". Zubi has every confidence in the new coach. "When I see him working in his space, I feel that we are in good hands … Tito has the same philosophy, he is Pep's heir".
Vilanova's strengths
Still on the new manager, the Basque said "I don't judge him on his results. Tito's strength for me is the way he has developed the idea and the way he makes decision in difficult situations, such as fielding Adriano at centre back against Madrid." And despite the record breaking start to the Liga campaign, "we will continue collecting points so we can stay at the top, knowing that titles aren't decided until you've crossed the finish line".
11 players from La Masia
Barça had eleven products of Masia on the field at the same time against Levante, but much as Zubizarreta was delighted with that, he also appreciates the need for caution. "The great Barça players like Xavi and Iniesta have been consolidated after a long period of time, not when they were 18. We don't believe we can turn Sergi Roberto into Xavi overnight."
Zubizarreta thinks the most important thing "is no longer just incorporating talent, but also considering the way that talent should develop within our organisation … When you watch the B team play and train, you can sense which players have a future, and you can appreciate how a process started years ago is still continuing."