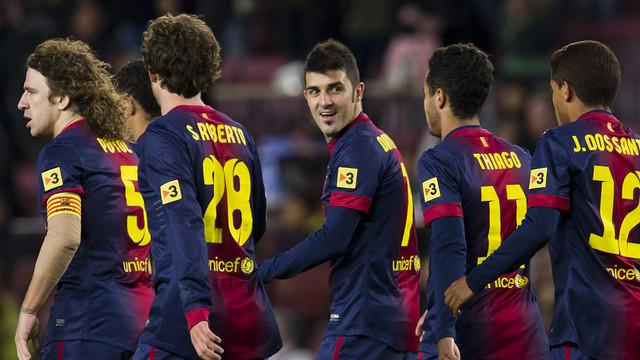 The Barça striker revealed that he is "very happy to have lasted the full 90 minutes against Alavés" and looks back over his 301 career goals
"When you look at the stats, it makes you think you've done a good job and you feel proud"

"Alavés were very good, playing the ball out from defence"
David Villa was one of the stars of this Wednesday's win over Alavés and his two goals gave him a career total of 301, 40 of them in a Barça shirt. Speaking to the Barça TV programme 'El Marcador', he revealed: "When you look at the stats it makes you think you've done a good job and you feel proud. I've scored some good goals and some very important ones. The best was the one I scored for Valencia against Deportivo from the middle of the pitch. And what's more we won 0-1. The most important goal was in the Champions League final at Wembley. I've always liked to score from headers because it's my strength".
Happy to have played the full 90 minutes
Apart from his goals, Villa is also pleased to have completed the 90 minutes on Wednesday: "I hadn't played a whole match for a long time and I'm very happy to have lasted the full 90 minutes. I've made the recovery and I feel great. Since Monday I've been training without any ankle problems".
"Alavés were very good, playing the ball out from defence. We came with the score in our favour but even so it was a bit tricky in the first half. The greatest respect you can have for an opponent is to take things very seriously even though you have a good score line from the first leg".
Barça, the example to follow
Finally, Villa said that he felt appreciated by the fans and emphasised just how special Barça is: "With so much money nowadays in football, it's a source of pride that there are 11 home-grown players in a team like Barça. Getting here is really difficult. It's an example to follow for any team in the world".