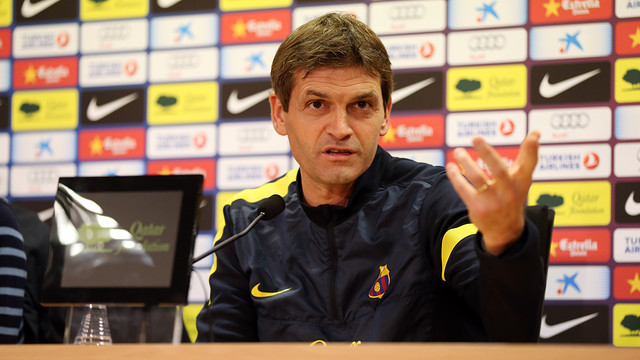 The Barça manager has warned that Alavés are coming with everything to play for and that "utmost seriousness is the best way to respect the competition, the opponent and our fans"
"Deulofeu is a player with a lot to offer, but he still needs to improve a lot before he can form part of the Barça first team"
"It will be good for the players coming back from injury, like Thiago and Adriano, to get some playing time, and it will also be a chance to see how the Barça B players react to playing at a venue like the Camp Nou"
The 3-0 win at Mendizorroza might suggest that Barça already have Alavés well beaten, but Tito Vilanova is aware that there are still 90 minutes left to play. "I don't think it's all over" he says. "We were winning 3-0 in Mallorca and they scored twice. That could happen again … The best way to respect the competition, the opponent and our fans is to approach the game with the utmost seriousness." He knows how much it means to the Alavés players to put on a good performance at the Camp Nou.
Chance for less regular faces
Vilanova has dropped seven of his most trusted players and brought in five from Barça B. "It will be good for the players coming back from injury, like Thiago and Adriano, to get some playing time, and it will also be a chance to see how the Barça B players react to playing at a venue like the Camp Nou".
He confirmed that Pinto will be in goal on Wednesday, "although I don't like entrusting myself to any one player", and also that Villa is in the side, although he has yet to be declared fully fit.
Deulofeu ready
Vilanova ended with comments about Gerard Deulofeu, one of the five reserve team players picked to face Alavés: "He is a player with a lot to offer, but he still needs to improve a lot before he can form part of the Barça first team. We have to see how he adapts to games like these. He is still very, very young".