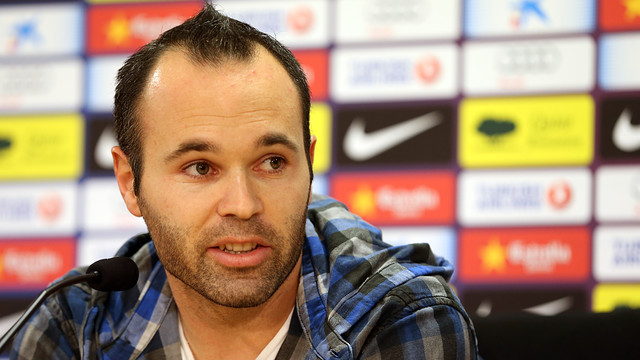 The midfielder said that the Argentine genius "is unique and decisive" and that's why "he'll break all the records"
"Messi is the number one" footballer in the world, declared Andrés Iniesta this morning. "He's unique and decisive and that's why he breaks records. What makes people happy at Barça is that he still has a long career in front of him," said the Barça midfielder on the Argentine, who, thanks to his brace away to Mallorca, surpassed the mark set by Pelé for goals scored in a calendar year.
Pleased with Barça's youth system
The Spanish midfielder, who joined the Spanish national team this Monday ahead on this Wednesday's friendly away to Panama, said that he was "lucky" to be in a Club like FC Barcelona, a team that nurtures and promotes its youth system players. "When there's no confidence [in the youth system], it's not really worth it, because players that are coming up aren't given a chance," he said. "I was called up to the first team when Van Gaal was the manager, when the team was going through a difficult time," he explained. It's worth noting that FC Barcelona finished the match against Mallorca with nine home-grown players on the pitch.
The Barça midfielder also noted that he's not used to watching matches from the bench, like he did against Mallorca. "You never know the displeasure or the luck of being on the bench at any given moment, but it's true that it's not a normal situation [for me]," he said.
Iniesta has been named to the starting line-up on nine occasions this season, he's come off the bench three times and on two occasions he didn't get the nod to play. He's also missed four matches due to injury.