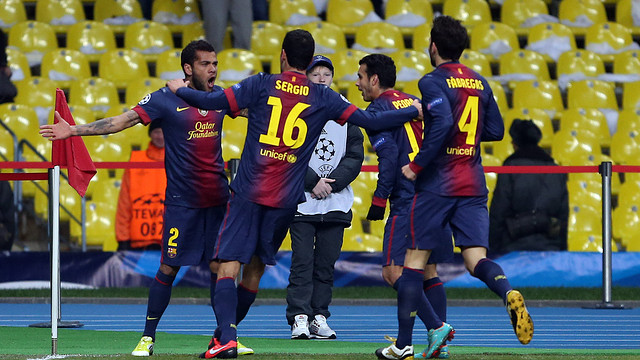 Barça are through to the second round of the Champions League after a convincing win at Spartak Moscow
Alves and Messi (2) scored all the goals in a stunning first half display
Barça made no mistake in Moscow and imposed every facet of their game on a helpless Spartak as they stormed into the knockout stage of the Champions League. They had clearly done their homework since the setback in Glasgow, and while showing no problems adapting either to the cold or the artificial turf in the Luzhniki Stadium, they had the game as good as decided in the first 45 minutes in which they played deep and found the net when it mattered.
Alves opens
The most outstanding element of Tito Vilanova's selection was the presence of all of Busquets, Xavi, Cesc and Iniesta, the latter out on the left. With a midfield like that, it was no surprise that Barça dominated the possession as much as they have done all season. The tempo was entirely under their control, the issue was converting that situation into goalscoring opportunities, and following one narrow miss for each side (Pedro for the visitors and Kombarov from a corner for the Russians), Barça went 1-0 ahead thanks to an Alves strike following yet another moment of titanic magic from Leo Messi (min 16).
Messi brace
The Barça goal caused an immediate reaction among the Muscovites, and for a while Spartak even founded themselves controlling the pace. There were moments of danger in both areas, but Barça made better use of theirs, and in the 26th minute Messi made it two after pouncing on the rebound following an attempt by Iniesta. The game continued at a frenetic pace, and although Spartak had their moments, Barça were still looking more convincing in attack, with one individual move by an Iniesta surrounded by defenders being particularly impressive. As was the third goal, converted by Messi in the 39th minute and assisted by Pedro, whose penetrating runs had been a constant nightmare for the Russian defence.
All under control
Spartak reacted after the break, but Barça were expecting that and coped brilliantly in defence while both Cesc (min 54) and Pedro (min 56) had chances to extend the FCB lead. As FCB regained their composure, the home side's ambition was slowly worn down as they realised that time was running out. The only real worry of the second half came when Valdés clashed with Welliton in the 67th minute and needed attention.
There was little more to the second half. The Russians knew they were soundly beaten, and for Barça it was merely a case of grinding down the clock. However, Vilanova reserved his substitutions until the last ten minutes, with Deulofeu making a particularly impressive impact after coming on.
All told, it was another excellent all-round performance from the Catalans, and with one game still to play, they can already celebrate qualification for the second round.