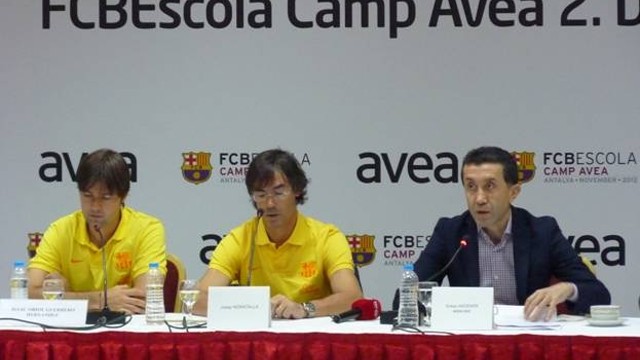 Last weekend FCBEscola, in collaboration with the telecommunications company AVEA – official FC Barcelona partner in Turkey-, kicked off its second campus in Turkey
On this occasion, just as with the first FCBEscoal AVEA Campus, AVEA representatives and FCBEscola trainers Isaac Guerrero, José Moratalla (ex-first team player) and Marc Velasco, continued with the development FCBEscola's programme throughout Turkey. The project began last May in Istanbul, and the second ECBEscola AVEA Campus is currently taking place in the city of Antalya.
Nearly 100 children aged between 9 and 14 years have started their Barça experience at FCB AVEA Camp Antalya 2012. The participants, selected from among 5,000 children in the Turkish cities of Istanbul, Izmir and Van, showed an exceptional level of play during the FCBEscola trials.
Director of FCBEscola, Xevi Marcé, and Carles Rexach, ex-manager and ex-player and current advisor to Barça's president, are expected to visit the FCBEscola AVEA Campus in the coming days.
Thanks to the contribution from the Turkish telecommunications company AVEA, FCBEscola has the opportunity to work with talented footballers within the unique context provided by the philosophy, methodology and values that define FC Barcelona.