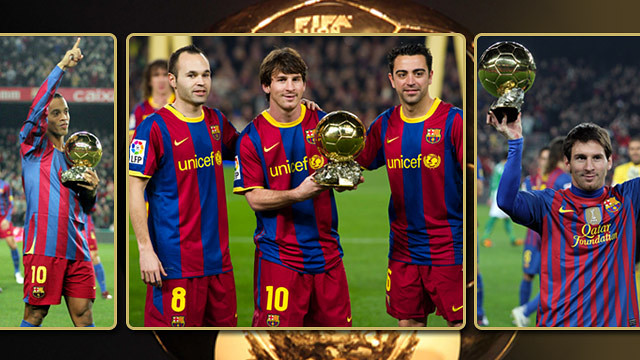 Since 2004, the highest individual award in football has featured many Barça players among the finalists
Six Barça winners
Six Barça players have won the Ballon d'Or: Luis Suárez (1960), Johan Cruyff (1973 and 1974), Hristo Stoitxkov (1994), Rivaldo (1999), Ronaldinho (2005) and Leo Messi (2009, 2010 and 2011).
Barça's dominance in the FIFA Ballon d'Or awards has been confirmed once again by the nomination of Leo Messi and Andrés Iniesta on a shortlist list of three for the 2012 award. There has been at least one Barça player among the final three since 2004, except for 2006 when despite the team winning the UCL not a single Barça player was nominated.
Messi, three times champion
The award has been won three times by only four players – Messi (who has won the last three year in a row), Van Basten, Platini and Cruyff. If Messi wins again this year, he will overtake his illustrious predecessors to stand alone with four awards. Before winning the award in 2011, 2010 and 2009, Messi came second in 2008 and third in 2007.
Xavi and Iniesta, recognition for the Barça style
Xavi Hernandez and Andrés Iniesta have also featured among the three finalists over the past three years, reflecting the dominance of Barça at Club level and Spain at international level. Xavi came third in 2011, 2010 and 2009 while Iniesta was second in 2010. That year Barça players held all three places on the podium.
Before Messi, Xavi and Iniesta, Ronaldinho and Deco represented Barça in the finals of the Ballon d'Or. The Brazilian won in 2005 after coming third the previous season. Deco came second in 2004, though he played the first half of the season for Porto.