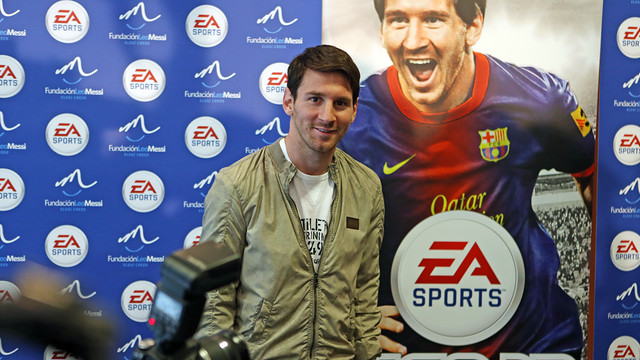 Leo Messi believes that the Champions League is the team's principal objective because: "it's the hardest to win, the best to play in and it's where the best teams are"
Messi insisted in the important role of his teammates in him winning his individual awards
Charity work
Messi was speaking at a press conference organised by EA Sports which is collaborating with the Fundació Leo Messi and today handed over a cheque for 250,000 dollars towards the foundation's charity work
Messi's competitive spirit is no secret and he explained today: "I love to train, play and win – I even like to win in training games. I've been that way since I was a kid and I don't think I'll change – that's the way I am". It's hardly surprising then that the world number one reckons that the Champions League is "a challenge for us, because of what it means. It's the hardest to win, the best to play in and it's where the best teams are. We will work hard to win it ".
Teammates
Messi's individual awards are mounting up, but he insists that his teammates are key to any personal success: "their contribution is vital. I am clear that without them I would never have achieved all that I have. I wouldn't have won the Golden Boot – I depend on my teammates to score the goals". He also made it clear that for him "any of the team deserve the Ballon D'Or" and that "I would never vote for myself".
Looking to his own objectives, Messi declared: "I want to improve and try and win everything we have all over again. I'm very competitive in my profession", whilst making it clear that any comparisons with Cristiano Ronaldo are not his main concern: "I'm not competing with him, I'm just trying to do the best for my team and my country. Neither of us is competing against the other". Asked about his relationship with team mate David Villa, Messi replied: "I 've got nothing to say. I don't have to explain anything to anybody, people can think what they like".
"My contract doesn't worry me"
Messi was also asked about an extension to his contract, but he was adamant it's not an issue for him : "I'm not worried about my contract. I've said this on a number of occasions. I'm clear about what I want and there's no problem with that". The Argentinean did talk about his team mate Pinto's contract though and hoped he'd be extending it at the end of the season: "he's a very hard working person. When he's called on to play, he always does his job and when he isn't he's always a great support for the rest of the players. I'd like him to stay".
Messi also expressed his satisfaction that the team kept a clean sheet against Spartak and insisted that even though top spot was already won, the team would be going into the game against Benfica" with the idea of winning it, as we always do". Finally, Messi spoke about Pep Guardiola, declaring: "wherever he goes, he'll do well – for me he's the best coach in the world".