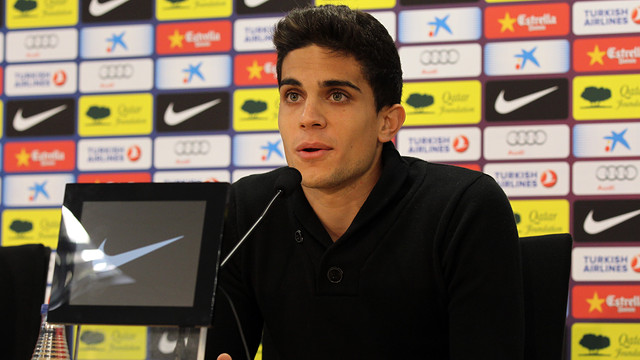 The centre back has spoken about the game at Celtic on Wednesday. He commented that "there are no easy games" and that the team will have to be at their very best if they want to take the three points at Celtic Park
He added that he is delighted with the way Tito Vilanova has managed his entry in the team
Bartra is impressed by the ambition shown by his team mates
Piqué back
Bartra is delighted that Gerard Piqué was declared fit on Monday. "It is good news for the team because we're talking about one of the best centre backs in the world", said a man who describes his team mate as a role model. "He is a very complete player, and being able to play alongside him has made me a better player". He also mentioned Mascherano, who "has adapted perfectly to playing at centre back" and is another player from whom he has been able to learn an awful lot.
Marc Bartra considers the game with Celtic on Wednesday to be of utmost importance, especially considering it could determine mathematical qualification for the last sixteen of the Champions League. But getting three points at Celtic Park "won't be easy … especially considering the ground and the competition," and so Barça are going to need to be at their very best.
Impressed with Tito Vilanova
Bartra defines himself as an "ambitious player who wants to improve every day." And with so many injuries in defence at the moment, the chances he has been given by Tito Vilanova have helped him to do that. "I am in the best team in the world. It's the boss who's in charge and he knew how I could be introduced to the team. It seems like it has all gone well, and that's a result of the way he has dealt with things".
He added that "the only thing on my mind is doing my best whenever I get chances … I need to improve, but the most important thing is that whenever I've been given chances, I've taken the best advantage of them." Bartra pointed out that they are still winning despite missing so many key men. "We are on great form" he said. "That shows how great this team is and how versatile the players are".
Ambitious team
One thing that never ceases to amaze him is that despite winning so many titles in recent years "the team is still beating records .. I love the way all of the players are so ambitious. They are absolute professionals. This team is so great because they never give up, and always want more".