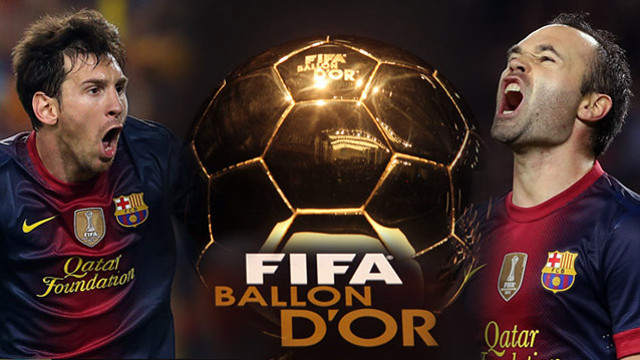 The two players of FC Barcelona will compete for the award with a third candidate Cristiano Ronaldo
The name of the winner will be announced at the FIFA gala on 7th January
Guardiola shortlisted
FC Barcelona also has a candidate for Coach of the Year.  Josep Guardiola, who won three trophies last season (European Super Cup, World Club Cup and Spanish Cup), has been included on this year's shortlist of three.  He won the award last year
Leo Messi and Andrés Iniesta are two of the three finalists for the FIFA Ballon d'Or 2012. The names of the three finalists – Messi, Iniesta and Cristiano Ronaldo (Real Madrid) – were announced on Thursday lunchtime. The winner of the award for the best player of 2012 will be announced at a ceremony held in Zurich on 7th January.
Messi: sixth appearance
FC Barcelona will be represented on the finalists' podium for the sixth year in a row. Leo Messi has reached the final for the last five years, finishing 3rd in 2007, second in 2008 and winning the last three years. He has enjoying a record-breaking 2012, scoring 82 goals already this year and just 3 away from equalling the all-time record held by German legend Gerd Müller.
Second time for Iniesta
Leo Messi will be joined in Zurich by teammate Andrés Iniesta, who finished second in 2010. A few months ago, Iniesta was named as UEFA Best Player in Europe on the day the draw was held for the group stage of the Champions League. He was also voted Best Player of EURO 2012, won by Spain.
Of the original list of 23 candidates –now shortlisted to three – there were five players from FC Barcelona; Messi, Iniesta, Piqué, Busquets and Xavi.
The three goals that will be considered for the Puskas Award for the best goal of the year are. Falcao (Atletico Madrid), Neymar (Santos) and Stoch (Fenerbahce). A Messi goal for Argentina featured in the original list of ten but was not included in the shortlist announced today.