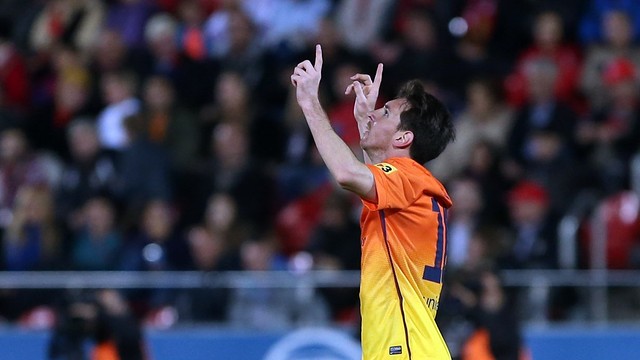 The Blaugrana notched up their tenth victory in the 2012/13 Liga season thanks to their solid play in the midfield and the active participation from the three Barça forwards
Before Barça's match away to Mallorca, Messi's compatriot, the manager Carlos Bianchi, declared that Barça's number 10 "is the best player of all time. He always plays at a high level." The manager's statements came on the same week Messi surpassed the record of goals scored in a calendar year set by Pelé in 1958. With his 76 goals, the Argentine broke O Rei's 1958 tally, and now he has a month and a half to break the all-time record of 85 goals set by Gerhard Muller in 1975.
The Catalan midfielder once again was Barça's metronome. His performance against Real Mallorca can easily be defined as superb as he made the most of the the passing lanes for the three Blaugrana forwards. Barça's ball possession, 73%, can be attributed to Xavi's extremely high pass accuracy.
Impeccable match from the youngster, who scored Barca's third goal right before the break. Playing on the left wing, Tello took perfect advantage of the opportunity given to him by Tito Vilanova. His matches against Real Sociedad and Spartak Moscow, both of which were at the Camp Nou, were notable as well. However tonight's match was far from home, but Tello proved, with his ability to take on players on the left wing, that he can be an important player for Vilanova's team.