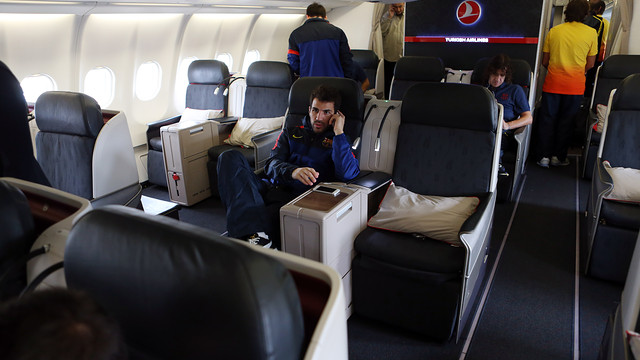 The first team's plane touched down in Moscow at 21.50 (local time). Barça will face Spartak Moscow on Tuesday for Week 5 of the Champions League group stage
The first team players are now focused on their Champions League match away to Spartak Moscow after last night's victory over Zaragoza. After this morning's training session at the Ciutat Esportiva, the players named to the team by Tito Vilanova set course for Russia.
The plane carrying the FC Barcelona expedition took off at 15.00 and landed in Moscow at 21.50 local time (18.50 GMT+1).
President Rosell leads expedition
President Sandro Rosell, accompanied by several members of the Board of Directors, is leading up the FC Barcelona expedition. FC Barcelona's director of football, Andoni Zubizarreta, is also with the team.
Training session on Monday
The first team will train this Monday at Luzhniki Stadium at 18.00 (15.00 GMT+1). At 17.00, Tito Vilanova and Cesc Fàbregas will hold pre-match press conferences.
Spartak Moscow's manager, Unai Emery, and a player will talk to the press at 14.00 (11.00 GMT+1).