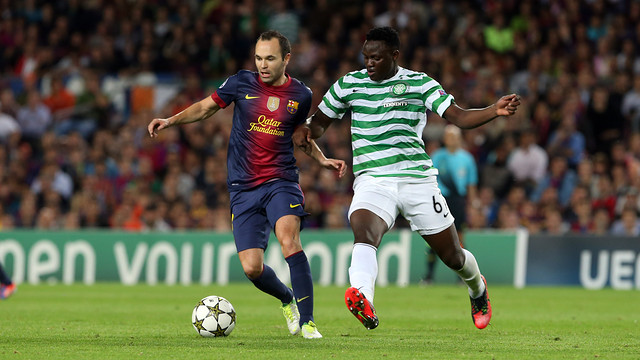 20.45, Canal +. The team managed by Tito Vilanova hope to clinch qualification to the next round of the Champions League against Celtic FC on Week 4 of European group play
Gerard Piqué, who travelled to Scotland, could make his return to competitive play
Celtic will receive FC Barcelona with a massive mosaic in commemoration of the Scottish team's 125-year history
FC Barcelona will look to clinch qualification to the Round of 16 this evening in Glasgow. The team led by Tito Vilanova know that a victory against Celtic would mathematically secure the top spot in the group if Spartak doesn't defeat Benfica in the other Group G match. If Barça edge Celtic this evening, the Blaugrana can afford to approach their remaining two group matches with the peace of mind that a Round of 16 berth has already been secured.
Without Busquets, with Piqué
Vilanova must devise an experimental defensive line-up against Celtic seeing that many of the manager's full backs aren't available due to injury. Puyol, Abidal, Muniesa and Adriano have all been ruled out for tonight's clash, but Gerard Piqué, who hasn't featured for Barça since Week 1 of the Group Stage – almost two months –, might make his return. Busquets, who is suspended for the match, will also be absent, which means that Alex Song will likely feature in the holding midfielder position against Celtic this evening.
Celtic celebrates 125-year history
The Scottish supporters will receive the two teams with a massive mosaic commemorating Celtic FC's 125-year anniversary. The home side will look to consolidate the second position of the group, a position currently threatened by Spartak Moscow. It's worth noting that two weeks ago the team led by Neil Lennon very nearly secured a point from the match at the Camp Nou (2-1). Without a doubt, tonight's match will prove difficult for the Blaugrana, but the reward is a spot in the Round of 16.