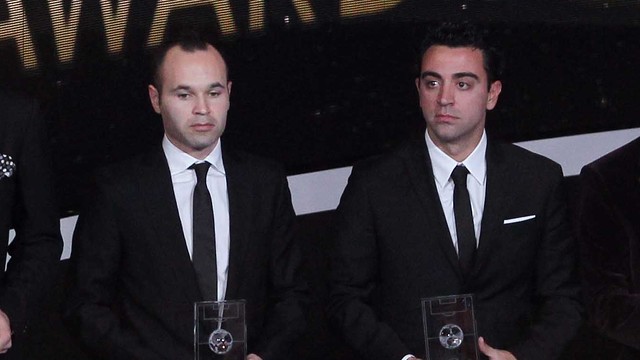 Busquets, Cesc, Iniesta and Xavi have been shortlisted for the FIFA/FIFPro World XI 2012 team
The best team of the year will be unveiled on January 7, 2013, at the FIFA Ballon d'Or Gala
Barça are the team with the most midfielder shortlisted for l'Onze Mondial FIFA FIFPro 2012. Of the 15 nominees, 4 are Blaugrana: Sergio Busquets, Cesc Fàbregas, Andrés Iniesta and Xavi Hernández. The three winners will be named at FIFA's Ballon d'Or Gala on January 7. L'Onze Mondial FIFA FIFPro is selected by professional footballers from around the world.
Xavi and Iniesta
The two Barça midfielders are no strangers to this award. Xavi has featured in the all-star team for four consecutive years, while Iniesta has been named to the last three. Cesc and Busquets have yet to break into l'Onze Mondial FIFA FIFPro.
Here's the list (by team) of nominated midfielders:
FC Barcelona: Xavi, Iniesta, Cesc and Busquets.
Real Madrid: Xabi Alonso, Modric and Özil.
Bayern Munich: Schweinsteiger and Ribery.
Manchester City: Touré Yaya and Silva.
Chelsea: Hazard and Lampard.
Juventus: Pirlo.
Liverpool: Gerrard.