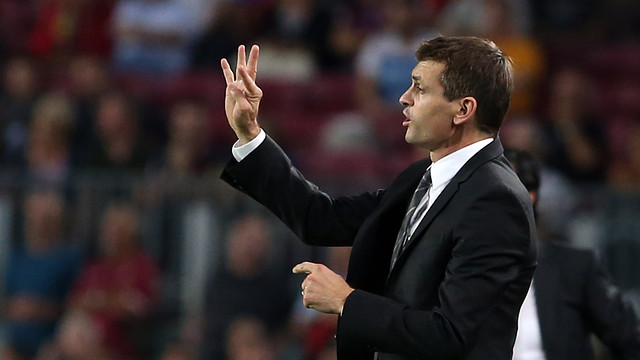 ESPN and totalBarça take a look at Tito Vilanova's record-breaking run in La Liga and Celtic FC praise FC Barcelona after Wednesday's match at Celtic Park
Celtic FC Chief Executive Peter Lawwell: "It is extremely important that we mention our opponents and our guests last night, FC Barcelona. The sign of true class is not how you win, but how you lose and last night they demonstrated that perfectly"
• Has Vilanova surpassed Guardiola?
FC Barcelona's 3-1 victory this weekend over Celta Vigo was Tito Vilanova's ninth win from La Liga's opening ten matches, taking the team to unprecedented heights in Club history – a feat never achieved by any Barça team. Vilanova's record-breaking run in the domestic competition surpassed the mark set by his highly decorated predecessor, Pep Guardiola. Francesc Tomas, writing for ESPN's FC Barcelona blog, attempts to answer the seemingly impossible question – given that the 2012/13 season is still in its infancy – of whether or not Tito has surpassed Pep:
"Pep Guardiola won a tremendous amount of titles with Barcelona and Culés will undeniably be forever grateful. Tito Vilanova hasn't won a single title since he took charge just over 100 days ago, but his achievements in this time have already surpassed his predecessor's.
"While I understand that fans and analysts love comparisons," continues to Tomas, "there is simply no way to decide who the better manager is, based on the fact that both seem to have found a way to make their respective teams successful at different times. Guardiola's delightful philosophy was terribly inspiring, but Tito Vilanova was right to change it as it had become far too easy for rivals to defend against."
Tomas concludes: "A squad that boasts three Ballon d'Or finalists and a huge number of international players is more likely to succeed than others of inferior quality. Having said that, it is also true that it takes a great coach to ensure world-class stars work for the greater good of the team rather than themselves."
Read ESPN's article in its entirety here.
• Tikerman Tito's Tribute
Anoop Jethwa, writing for totalBarça, also takes a look at Tito Vilanova's managing style in relation to his predecessor:
"Under Pep Guardiola, Barcelona smashed record after record and the team was hailed as the best ever, especially after that famous Saturday night in London in 2011," writes Jethwa. "This season the football has not hit the spectacular heights of the last era, full of flair and jaw dropping sharpness in all areas of the pitch, but the never-say-die-attitude, desire and togetherness have given Vilanova the best start to a season in the history of the club. All the more impressive is that it's very difficult to say that the team is playing anywhere near its best, due to the rotation of tactics and players, of which plenty comes down to injuries."
The author goes on to cite Carles Rexach's – Barça's former striker and manager – take on the first team's coach:  "The name of Tito Vilanova is already in the history books of FC Barcelona after having led the team to its best start in the history of the club. This is something that is special to me because I believe in Tito's worth and also I get on very well with him and his assistant, Jordi Roura. But apart from this record, there is a lot more. In fact, what I would emphasise most about him is the ease in which he can read games and react when something is not quite right, and his mastery in managing the squad and his ability to do it without any controversy or drama."
Analyzing Barça's conditioned approach –given the multiple defensive absences– to its matches, Jethwa observes that the "key is now not to perfect exotic football, but to play winning football within the attacking confines set out by the club's statues." He adds: "Tito's tinkering is about him gaining more understanding on the field about his own players. Even though he's been on the bench for the past four years, his appetite to really know the ins and outs of every single squad member's abilities should give us all confidence that we're heading in the right direction."
Read totalBarça's article in its entirety here.
• FC Barcelona – world class in every way
"The bonds of friendship between Celtic and Barcelona have been further strengthened this season following the two meetings in the UEFA Champions League," reads the statement on Celtic FC's website following last night's victory over FC Barcelona.
Showcasing the Scottish team's class and graciousness in victory, Celtic's Chief Executive Peter Lawwell said: "It is extremely important that we mention our opponents and our guests last night, FC Barcelona. The sign of true class is not how you win, but how you lose and last night they demonstrated that perfectly.
 
"Over a number of years, we are delighted that FC Barcelona have become our true friends," continues Mr Lawwell, "and we are very grateful that the directors and players of Barca have been part of our 125th anniversary celebrations."
 
The Scottish team's Chief Executive concludes: "Barca have created one of the greatest football teams of all time and last night it was a privilege to see the best players in the world at Celtic Park-  they have given so much to football and deserve huge praise for all they have done. We were delighted once again to welcome Barca to Glasgow and, of course, we wish the club and its supporters well for the future."
Read Celtic FC's article in its entirety here.