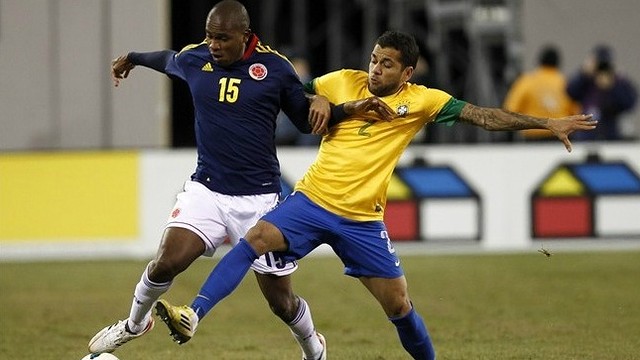 Fourteen of Barça's first team regulars were involved in international action this week.
Barça players totalled up 828 minutes in the games involving Spain, Spain under-21s, Argentina, Brazil and Chile. There were goals from Pedro (2) and Villa, while Alexis Sanchez limped off the pitch after just 20 minutes.
Victor Valdes (60 min)
Valdes played the first 60 minutes of Spain's friendly in Panama, producing a solid performance especially at the beginning of the second half. He was replaced by Casillas with 30 minutes left of the match.
Jordi Alba (60 min)
Alba featured in the starting line-up at left back, in a back four including Juanfran, Javi Martinez and Albiol. He was replaced by Sergio Ramos after an hour.
Sergio Busquets (90 min)
The midfielder – who is banned for the next league match against Zaragoza – was the only Barça representative to play the full 90 minutes against Panama. He occupied the centre of midfield. Andrés
Iniesta (45 min)
Despite being on the pitch for only one half, Iniesta still had time to put his stamp of quality on the game and set up two goals for Pedro and Villa.
Pedro Rodriguez (45 min)
In just 45 minutes, Pedro added two goals to his growing international tally. The second came just before halftime when he deceived the Panama goalkeeper to fire into an empty net. He's Spain's highest scorer in 2012 with 7.
David Villa (72 min)
Villa scored his 53rd international goal and was replaced by Susaeta with a quarter of the game left.
Cesc Fàbregas (45 min)
Cesc started on the subs' bench and came on for Iniesta at the break.
Martín Montoya (0 min)
The fullback was the only Barça player not to get a run-out and will have to wait a little longer to make his full international debut for Spain.
Leo Messi (90 min)
The captain of Argentina had to make do with a goalless draw against Saudi Arabia, managed by Frank Rijkaard, the man who handed him his Barça debut.
Javier Mascherano (90 min)
Mascherano occupied his usual place in the heart of the Argentine midfield, sparking off Argentine attacks and breaking up any danger from the home side.
Alexis Sanchez (20 min)
The forward started the game against Serbia in Switzerland but had to go off with a foot injury in the 20th minute.
Dani Alves (90 min)
Alves occupied the right back position for the full 90 minutes of Brazil's draw against Colombia in New Jersey. He provoked a penalty which Neymar failed to convert.
Marc Bartra (90 min)
Bartra occupied one of the two centre back positions for Spain under-21s against Italy in Siena on Tuesday. He had a great game and almost scored.
Cristian Tello (31 min)
The winger came on for Spain under-21s in the 59th minute to join Barça B colleagues Sergi Roberto and Deulofeu. Deulofeu scored in Spain's 1-3 win.