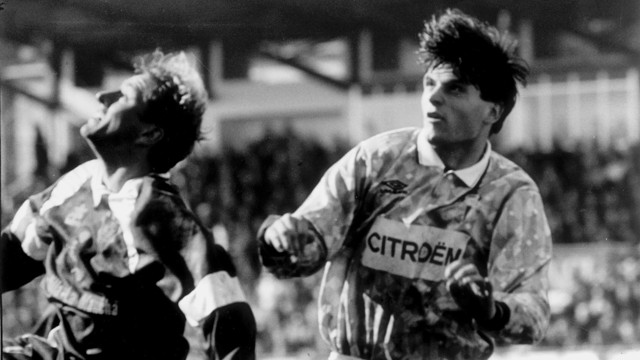 The boss will be back at the ground where he made his top flight debut 20 years ago, with
Celta Vigo.
Villanova, who came on at the break, missed a penalty and Celta lost the derby game.
On Saturday night Tito Vilanova will be back at the Riazor ground where he made his debut in the Spanish first division on September 6th 1992. Vilanova played in midfield for the newly promoted Celta after Barça had transferred him following two years on loan to Figueras. According to the REVISTA BARÇA, the Club inserted a 30 million peseta first option buy back clause when they transferred him to Celta.
Bitter sweet debut
Vilanova sat out the first half and came on after the break, in what was the opening game of the season, with coach Chechu Rojo bringing him on for Mandiá, but it is no doubt a bitter sweet memory for the Catalan, who hit a late penalty high over the bar when his team were already 2-0 down to the emerging "Super depor" after goals from Bebeto and Claudio.
It was the first Galician derby for over 20 years in the first division and tension ran high with the Celta coach receiving a hail of stones as it left the Riazor car park after the game.
Tito Vilanova played a total of 19 league games during that 1992-93 season and Celta finished in a comfortable 11th spot.