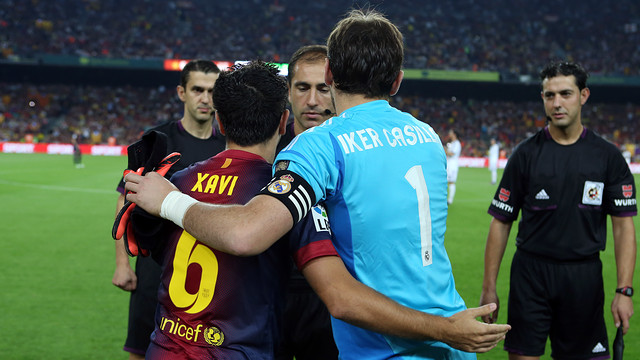 Once training is over, Xavi will be flying straight to Oviedo, where he is due to collect the Príncipe de Asturias Award for Sport along with Iker Casillas
Friday is a massive day for Xavi Hernández. The FC Barcelona midfielder is due onstage at 18.30 in the Teatro Campoamor, Oviedo, to collect the 2012 Príncipe de Asturias Award for Sport along with Iker Casillas, the Real Madrid and Spain goalkeeper. The duo won the final vote over the other candidate, the International Paralympic Committee.
Training first
But before he flies to Asturias, Xavi Hernández has a first team training session at the Ciutat Esportiva. Once over, he'll be going straight to terminal 2 at Barcelona Airport. At 14.00, he's on a charter flight to Castrillón, 25 kilometres from Oviedo. He'll get some rest at the Reconquista Hotel in Oviedo until shortly before the gala commences, scheduled to begin at 18.30.
Not alone
Xavi will be accompanied throughout by president Sandro Rosell, vice president Carles Vilarrubí and director Susana Monje. Some of the closest members of his private life will also be attending, including his mother, father and partner. He has a return flight at 21.30, and will arrive back to Barcelona at 22.50.
And he's got more travelling to do on Saturday morning. This time his destination will be Madrid, where Barça have their ninth league game of the season at Rayo. But that's another story.