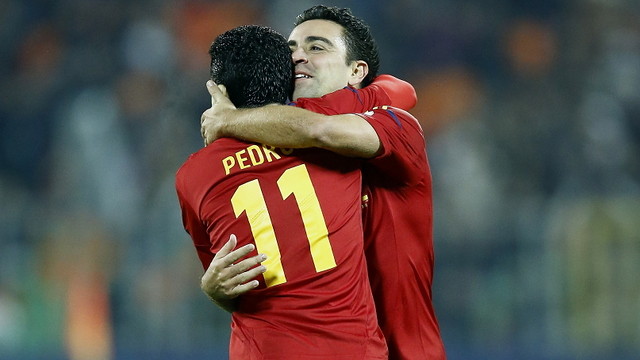 The 15 FC Barcelona internationals have shone brightly for their national teams in a total of 2,075 minutes, 300 more than the last international break
The midfielders clocked up the most time with 900 minutes
Nine first team players played all 180 minutes of their two games this week
If including players from Barça B, the minutes count rises to 2,437
The FC Barcelona first team internationals played a total of 2,075 minutes for their national teams this week. That's 300 more than the last time, despite only 13 players travelling, as opposed to 17 last time. The following is a review of all of their activity, classed by positions.
Goalkeeper (did not play)
Valdés. No minutes played. The Barça keeper, along with Villa, was the only one of the 15 internationals that didn't play this week. Casillas was selected as keeper for both Spain matches.
Defenders (630 minutes)
Montoya. 180 minutes played. The right back played in both games for the Spain U21 side against Denmark in which they ensured passage to the European Championship in Israel. He performed well. Jordi Alba. 180 minutes played. The left back played both games for Spain. Now regular starter for the team, he scored the opening goal for Del Bosque's team in Minsk (0-4).
Adriano. 180 minutes played. With Alves injured, Adriano was picked as right back for the entirety of Brazil's two friendlies against Iraq and Japan.
Bartra. 90 minutes played. A key member of the Spain U21 team, he played all of the 5-0 win over Denmark in the first leg, but sat out the return.
Midfielders (905 minutes)
Mascherano. 180 minutes played. As always for Argentina, he played both games as a defensive midfielder. His country won both matches this week against Uruguay and Chile.
Busquets. 180 minutes played. With his FCB colleagues Puyol and Piqué both injured, Busquets was asked by Del Bosque to provide cover at centre back, as he has done in the past at club level. He played both matches.
Iniesta. 110 minutes played. Substitute against Belarus (35 minutes), and one of the outstanding players against France (75 minutes). He can't be blamed for the draw, for he had left the field when 'les bleus' equalised.
Xavi. 165 minutes played. The central playmaker, he was on the field when it mattered most. He was only rested in for the last section of the game in Minsk, when the win was already assured.
Cesc. 180 minutes played. Playing as a 'false centre forward', Cesc featured in the whole of both Spain's matches. He missed a penalty against France that would have made it 2-0. Song. 90 minutes played. Cameroon has only one game this week, in which they beat Cape Verde 2-1. Song played the full ninety minutes, but the win was not enough to qualify for the African Cup of Nations.
Strikers (540 minutes)
Alexis. 180 minutes played. The star of the Chile side in both matches, but he could do nothing to save his country from two defeats against Ecuador (3-1) and Argentina (1-2) that have put their World Cup hopes in danger.
Messi. 180 minutes played. There can no more questioning of best player in the world's ability to produce the same kind of magic for his national team. He scored two goals against Uruguay (3-0) and then grabbed the opener against Chile (1-2).
Pedro. 180 minutes played. The Canary Islander got a hat-trick against Belarus (0-4) and also played the whole game at the Vicente Calderón (1-1).
Villa. No minutes played. Like Valdés, he spent both Spain matches against Belarus and France on the bench.
Barça B players (362 minutes)
Planas. 180 minutes played. Planas was the most used Barça B player by Julen Lopetegui. He played at left back in both matches with Denmark.
Sergi Roberto. 25 minutes played. Made a testimonial appearance against Denmark in the second leg (1-3) when the tie was already decided.
Tello. 152 minutes played. Started both games against Denmark and only got some rest in the return leg.
Deulofeu. 5 minutes played. Though he usually gets more time on pitch, this week he only played the last five minutes of the 5-0 win against Denmark.