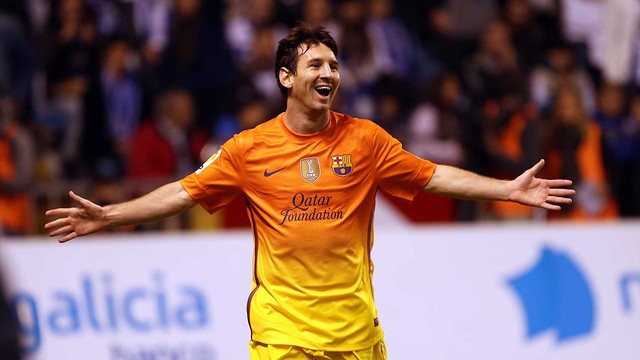 Messi has already scored 71 goals in 2012 and is now just four away from Pelé's long-standing record
He has also now scored more hat tricks than any other player in the Club's history
Here's everything you need to know about these and other stats from Saturday's match
– Saturday night's hat trick means that Messi has beaten his own goal-scoring record. He's scored 59 league goals up to now for Barça in 2012 – one more than in 2010.
– In total, Messi has scored 71 goals (12 with Argentina) and is just four goals short of Pelé's record. 'O Rei' scored 75 goals in 1959.
– Messi (11 goals) is the top scorer in the Spanish League, followed by Cristiano Ronaldo (9) and Falcão (8).
– His latest hat trick means that Messi has scored three or more goals in 15 league matches, overtaking the record previously held by César (14). It was Leo's first hat trick this season.
– Cesc Fàbregas provided the assist for 0-1, 0-3 and 2-4, all in the first half.
– Saturday night's match set a new scoring record in Corunna. Until now, the most goals scored had been seven (0-7 in 1955/56 and 1-6 in 1956/57).
-It's the second time Barça has won an away match 4-5. We have to go back to the 1963/64 season and the match against Levante to find the same score line.
– In the last six games that followed on from an international break, Barça has won all six.
– Tito Vilanova has equalled the best ever debut of a Spanish coach in the first Division: 7 victories and one draw set by Díaz Novoa in 1979 with Sporting Gijón.
– Mascherano was red-carded for the second time as a Barça player. The first sending-off happened on 11 February 2012, away to Osasuna (3-2). Strangely enough, it was the same referee on both occasions.
– Barça hasn't conceded 4 goals since 1st March 2009, when Atletico Madrid won 4-3 in the Vicente Calderón.
– It's the first time since 2002 that Barça has conceded 11 goals in the opening 8 matches.