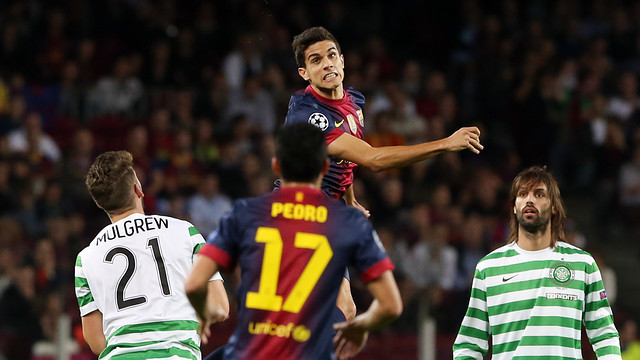 Marc Bartra made his debut with the first team this season against Celtic on Tuesday night and he clearly enjoyed the experience, also noting that: "wins like this help us to become more of a team"
"I had to try and put aside everything that was happening around me and Tito really helped – he knows me well and knows the how the Club works"
"Nosaltres també voldríem que els gols arribessin abans i no patir tant, però crec que aquest tipus de triomfs fan més equip i són importants"
After making his debut, Marc Bartra spoke on Barça TV's "El Marcador" programme and explained: "I am very happy – it is one of my happiest days since I came to Barça, every player who has grown up here at the Club hopes to be able to play in games like that . It's just like a dream. I felt fine on the pitch, I really enjoyed it – which is important. I think that I am physically in very good shape and that also helps".
With Barça's injury problems in defence having mounted over the last few weeks, Bartra explained that he had tried to stay detached about his own options: "I had to try and put aside everything that was happening around me and Tito really helped – he knows me well and knows the how the Club works. He found the perfect time to give me a game. You have to remember who you are and where you are and the opportunities you can get. I was calm about it and just stayed focussed on working at my job".
Centre half – a special role with Barça
The Catalan is also well aware of the difficulties in playing in his position for a team like Barça: "you see a lot of the mistakes when they are made there. I've played for quite a few years here now, playing maybe 40 metres away from the keeper and having plenty of one on ones and that prepares you well. You just have to get used to that way of playing"
Important type of victories
Reflecting on the Celtic game, Bartra explained: "we wanted the goals to come sooner too and not have to suffer so much, but I think this type of victory make us more of a team and are important for us". Finally, Bartra insisted that he is very comfortable with his role in the squad and that he will continue to work and train hard to get more chances to play.