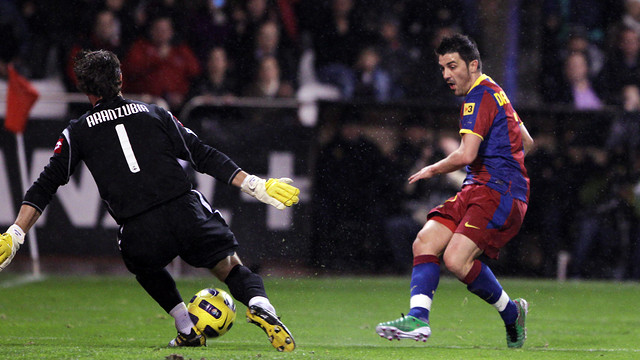 The Asturian striker has scored 11 goals in 14 league matches against Deportivo la Coruña, Barça's opponent on Saturday
Only Sevilla and Osasuna, with 13, have been on the receiving end of more Villa goals

David Villa has a habit of making life a misery for Deportivo la Coruña in league matches. The international break over, FC Barcelona now take on a side against which the Asturian has scored an impressive 11 goals in 14 matches.
With Zaragoza, Valencia and Barça
The first of Villa's massive collection of goals against Deportivo came back in 2004/05, when he was still at Zaragoza. His was the only goal the Aragonese side scored that day. It was when he moved to Valencia that he really started inflicting damage on the Galicians, scoring nine goals. The eleventh and final of his tally against the blue and whites came in the 2010/11 season, now as a Barça player, in a 4-0 win at Riazor.
That makes Deportivo the third most common victim of Villa's extraordinary effective ability to find the net, the only teams to fare even worse being Sevilla and Osasuna (13 goals). Of these eleven goals, four were scored at Riazor and the other seven in games in which Deportivo were the visitors.