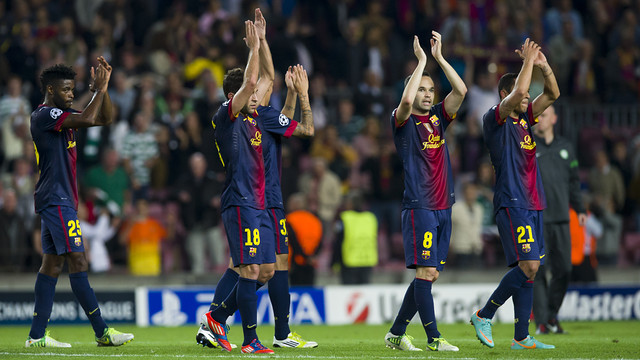 Tuesday night's was the fifth game this season that Barça have won after going behind
12 of the team's 35 goals – 34,3% – have come in the final quarter of an hour
It's been four years since Barça began a group stage with three straight wins
Below are some more facts and figures from the match at the Camp Nou
• This was the fifth game this season that Barça have come from behind to win a game, following the wins over Real Madrid(3-2), Osasuna (1-2), Spartak (3-2) and Seville (2-3). They also came behind in the league game against Madrid to draw 2-2.
• Barça have thus failed to come back on just one occasion – the 2-1 defeat to Real Madrid in the Spanish Super Cup.
• Those comebacks are reflected in the timing of the team's goals, with 12, of the total of 35 scored coming in the last 15 minutes.
• Jordi Alba's winner was his second goal in two games, having scored the opener in last weekend's opener against Deportivo.
• Alba's goal gave Barça a deserved win, as reflected in the following stats: Barça made 998 passes to Celtic's 229, 912 of them successful to Celtic's 169. They had 28 shots, with 11 on target (6 and 1 for the Scottish team) and sent 19 crosses into the box, compared with just 9 from Celtic.
• Bartra's debut means that Tito Vilanova has used 20 players so far this season.
• Bartar was the Barça man who recovered most possession in the game – with 18 interventions.
• Iniesta's goal was his first of the season. His last goal was against Chelsea in the 2-2 draw in last season's Champions League semi-final.
• Valdés, Mascherano, Xavi and Messi són are the only players to have started all three Champions League games so far this season and have played the most minutes in the competition, followed by Pedro and Busquets
• The game was Xavi's 150th international match for the Club.
• It's been four years since Barça began the group stage with three straight wins – they last did it in Guardiola's first season on charge, 2008/09.