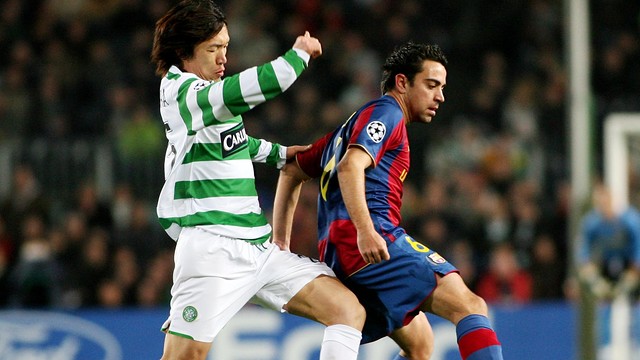 Barça and Celtic FC have faced each other four times in Barcelona, with a record of two victories for the Blaugrana and two draws. The last time the Scots and the Catalans faced off was in the 2007/08 season
This Tuesday at 20.45, Celtic FC will return to the Camp Nou for Matchday 3 of the Champions League Group Stage. This Tuesday's match will be the Scottish team's fifth visit to the Camp Nou.The first time was in 1964 in the second round of the UEFA Cup, FC Barcelona won the match by 3-1 thanks to goals from Zalua, Seminario and Rifé. Celtic returned 40 years later, in March of 2004, for the return leg of the UEFA Cup's first knock-out stage. The Scottish team managed a goalless draw and progressed to the next round of the competition thanks to their 1-0 away-leg victory.
The following year, in 2004/05 season, Barça and Celtic faced off in the Champions League. This time the teams finished with a one-all draw. Eto'o gave Barça the lead but Hartson scored the equaliser before the break. The last time the two teams met was in the 2007/08 season. The team managed by Frank Rijkaard hosted Celtic at the Camp Nou in the first knock-out round of the Champions League. Barça won by a single goal and progressed to the quarter-finals thanks to the aggregate score of 4-2 (2-3, 1-0).