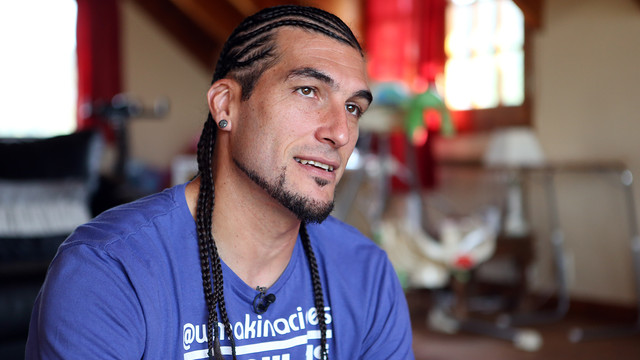 The Barça keeper explained in an interview with Barça TV and www.fcbarcelona.com that the team are still full of ambition
"I feel just as much appreciated with Tito as with Guardiola"
"The season is really long though and it just seems to get more difficult and competitive, the other teams make it harder every time and it won't be easy"
"My job is to train hard so that when the boss needs me I am 100% – whether that is for a Cup, a League or a Champions League game"
"That friendship with my teammates is the nicest and most important thing really, more so even than all the titles and victories"
José Manuel Pinto spoke to Barça TV and www.fcbarcelona.cat and discussed the current situation at the Club, as well as looking back at when he first began at the Camp Nou.
-You came to the Club for just six months and yet you are still here five and a half years later – do you see yourself continuing to play here and finishing your career here?
-Right now I am enjoying myself and would love to make it last as long as possible. Whilst I still feel strong physically, I'll not be thinking about retiring. Hanging up my boots here? Well I'd like that – I'm very happy here, my son was born here and after my football career is over I'd like to live my life here. I love this city.
-Will you keep being friends with the guys from the team when you have retired?
-That friendship with my teammates is the nicest and most important thing really, more so even than all the titles and victories. I will take many friendships away with me – as I did when I left Betis, Celta and even Safa San Luis when I was just a kid.
-How is the new season going? You are still unbeaten in the league and in Europe.
-It's looking good so far. The season is really long though and it just seems to get more difficult and competitive, the other teams make it harder every time and it won't be easy, though we won't be any less competitive ourselves – we still have the same ambition to win.
-That eight point difference with Madrid – how do you rate that?
-I think that the points aren't that important now. I don't know what the Madrid squad are feeling, but I know what it's like in ours and what the dressing room is like and there is a great feeling of strength and togetherness between us and a really good atmosphere. When you add that human quality to hard work then the results are better. Maybe they have the same thing in Madrid, I don't know, but here it is incredible.
-You always said you felt appreciated under Guardiola – is it the same with Tito Vilanova?
-Exactly the same – I feel just as highly valued and appreciated.
-Do you think your role will still be the same – you played all the Cup games under Guardiola, but you aren't just a Cup keeper are you?
I train to try and get the chance to play – that's what I'd like, but it's not my decision. My job is to train hard so that when the boss needs me I am 100% – whether that is for a Cup, a League or a Champions League game.
-Have you learnt to play a different style of football at Barça?
-As soon as I got here they made it clear to me that the important thing was to be able to play with my feet. That was a challenge which I quickly accepted and enjoyed meeting. Now I really like being able to play like that and I love playing possession games in training. It was a change I had to come to terms with in the first six months.
-What do you most like about being a keeper?
-Since I was a kid I was always clear that I wanted to be a goalkeeper. My grandfather was one and my uncle too, so maybe it's just in my blood. It's a different position from any other and one with the most responsibility. When the keeper makes a mistake, there's nobody behind him, so you have to have a very strong mentality and a lot of personality – that's what makes us different.
-Do you feel privileged?
"Yes. Since I was a child I always wanted to play football, be a keeper and play in the top flight and now I am living that dream with the best team in the history of the game. I have played in La Liga, in the Champions League. I've won the Zamora Trophy and I am enjoying it all!