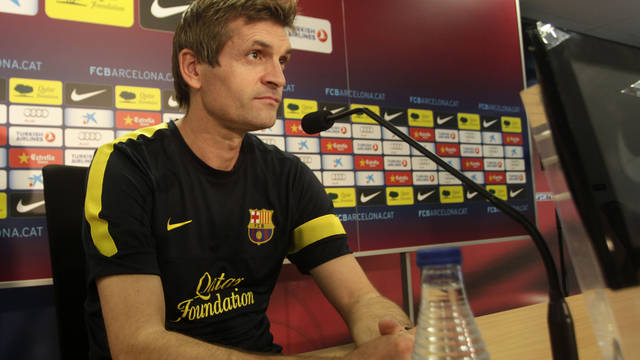 The Barça manager thinks winning all three points at the ever-difficult Coliseum Alfonso Pérez would be the best way to deal with the problem of so many absent international players being away this week
On the five-point lead over Real Madrid, Vilanova says "the important thing is that we've got nine points"
September 11 demo
Tito Vilanova also spoke about the independence march on the National Day of Catalonia and the repercussions it's having. "It was a peaceful demonstration, in which one and a half million took part. If so many people take to the streets it's because they're not happy about something. We're in a democracy and we have the right to express ourselves however we want. Everyone is free to express their feelings and they should be respected".
But does he expect a hostile reception in Getafe because of the current political climate and especially following the comments made by Guardiola on the matter? Said Vilanova "I don't think the atmosphere will be any more unfavourable than on other occasions. Guardiola, Vicente del Bosque… Let people be free to say what they like".
Now that the international break is over, Barça return to Liga action on Saturday in search of the fourth win out of four at the ever-difficult Getafe, where they lost last season. Tito Vilanova is well aware of the dangers. "Getafe has always been a tough ground for us. Last year they sat back and defended. I just watched the game again and we weren't comfortable with it. Their players play very tight together. I know exactly how we have to play against them".
He also spoke about the international break, and how in its wake he has been left with three unavailable players, Iniesta, Alexis and Jordi Alba. But rather than moan about it, he's ready to assume the consequences. "It's inevitable" he said. "We're lucky enough to have the best players in the world and that's why we have to let them go. So they get injured? That could happen here too. It happens to any players at big clubs. It's normal for people to want to play for their country, it's a privilege".
Cover for changes
Asked what he'll do about the three players that are out for the game at the Coliseum Alfonso Pérez, Vilanova admitted that "it changes things a bit. It doesn't just affect the starting eleven, but also possible changes in the second half … There's nothing we can do about it, but the best way to beat the FIFA Virus is by beating Getafe".
Considering who's missing, this might mean chances for Thiago and Villa. On the former, Vilanova said that "he's been training very well over the last few weeks and is in good shape," while on the Asturian he commented that "he can play more than 45 minutes, he's getting better every day". He also spoke about Cesc Fàbregas, "a top level player that would be in the first eleven of any team in the world," and also Puyol, who has been declared fit and "feels confident with the protection and is ready to play".
Nine points what matter most
Three matches before the clásico, Barça lead Real Madrid by five points. Vilanova reckons "the objective is to worry about each game … It's no use looking further ahead. The most important game right now is against Getafe. It's a difficult ground, against a team that not so long ago beat Madrid, and we know all about the difficulties we'll face … The most important thing is that we've got nine points … It's still early, and there are a lot of points left to play for and the gap is still small. The time will come when we'll be able to think ahead, but it's not this time".