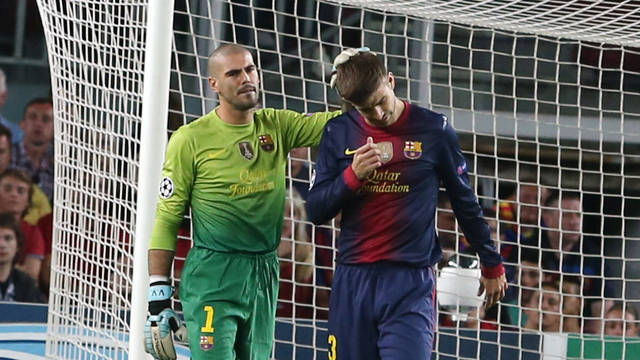 The defender, who picked up his injury on the seventh minute of the match against Spartak, sprained his left foot and will be out of action for at least two weeks
Before tonight's match, the Catalan defender was the most used player by Tito Vilanova
Gerard Piqué will be sidelined for two to three weeks after picking up an injury shortly after kick off against Spartak Moscow. According to the Club's Medical Services, the player has spain in his left foot.
Piqué went forward to contest a corner kick on seven minutes and received a knock on his left foot. The center back couldn't continue on the pitch, even though he tried, and was subbed out two minutes later. The Cameroon international Alex Song filled in for the injured Catalan as center back.
Piqué, the most used player up until tonight
The defender was the most used field player by Tito Vilanova in Barça's six official matches of the season. Before this evening's Champions League match, Piqué played a total of 492 minutes between Liga and Super Cup matches.
Puyol also injured
Piqué joins captain Carles Puyol, who sprained the posterior cruciate ligament of his left leg, on the injury list. The captain will be out of action for four to six weeks.