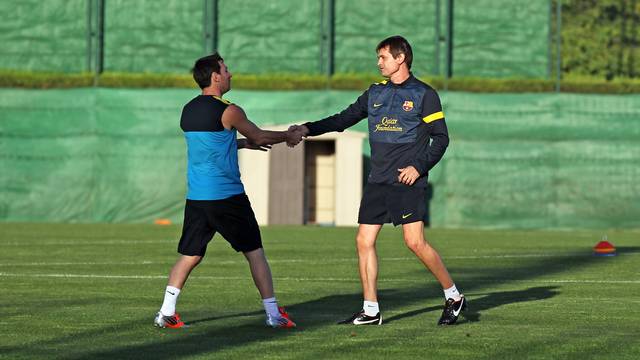 After a week marked by the absence of Barça's international players, Tito Vilanova's men look ahead to a week that's marked by the team's Champions League debut and the Liga match against Granada
After the international break and the match away to Getafe, the Azulgranas look forward to this week where they will  make their debut in the Champions League and play in La Liga at home against Granada. Tito Vilanova's men, who have Monday off, will train five times this week.
Before for match against Spartak Moscow, the Azulgranas will train at the Camp Nou (on Tuesday and Wednesday). After the match against Spartak, the team will return to training at the Ciutat Esportiva Joan Gamper.
Monday, September 17
Day off
Tuesday, September 18
18.00 training session at the Camp Nou
Wednesday, September 19
12.00 training session at the Camp Nou
20.45 FC Barcelona – Spartak Moscow
Thursday, September 20
11.00 training session at the Ciutat Esportiva Joan Gamper
Friday, September 21
11.00 training session at the Ciutat Esportiva Joan Gamper
Saturday, September 22
12.30 training session at the Camp Nou
22.00 FC Barcelona – Granada CF
Sunday, September 23
Day off