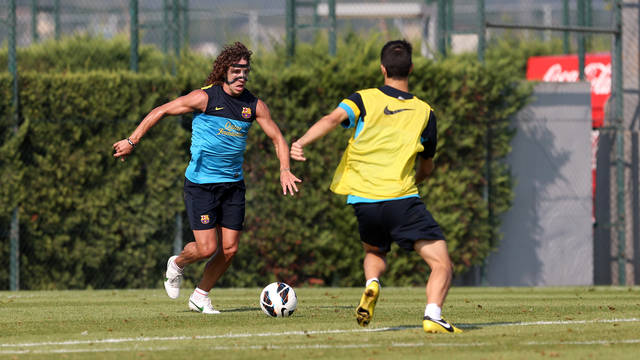 The five first team players left at the Club trained with the B team this morning in a session led by Eusebio Sacristán in the absence of Tito Vilanova who is at a UEFA coaches meeting
The second training session of the week without the Club's internationals took place this morning at the Ciutat Esportiva Joan Gamper, with the few players left –Puyol, Thiago, Fontàs, Pinto and Dos Santos – again joining in with the B team .
Puyol, who has a fractured cheekbone, tried out a protective mask during the session and if he is considered fit for the league game against Getafe on 15th September, he will be obliged to wear the mask during the match.
With Tito Vilanova attending UEFA's annual coaches meeting in Nyon Eusebio Sacristán took charge of the session with the B team, who were missing Planas, Sergi Roberto and Deulofeu, who are away with the Spanish Under-21 team.
The next training session will be held on Thursday morning in Sant Joan Despí – once again without the missing 17 internationals.