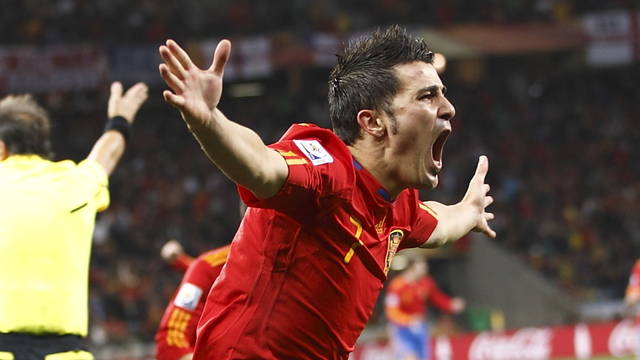 Pedro, with two goals, was Spain's best player in tonight's match against Saudi Arabia. Villa made a perfect return to the Spanish national side. El Guaje scored his 52nd international goal for La Roja. Alves played the entire 90 minutes in Brazil's match against South Africa.
More action and entertainment with the sportsbook review action as seem on the last matches, Spain (0-5) and Brazil (1-0) both won their respective international friendlies this Friday evening. Del Bosque's team beat Frank Rijkaard's Saudi Arabia thanks to four goals scored by FC Barcelona players. Pedro (2), Xavi and Villa – who returned to La Roja after breaking the tibia in his left leg earlier this year – all got on the score sheet to help Spain to a 5-0 over Saudi Arabia. El Guaje only needed a few minutes on the pitch to find the back of the net.
Spain fielded five FC Barcelona player – Valdés, Piqué, Busquets, Cesc and Pedro – in its starting line-up, while Xavi, Iniesta, and Villa came off the bench. Jordi Alba was the only FC Barcelona player to not feature for Spain this evening. On the other hand, Pedro was the only Barça player to play the entire 90 minutes. Dani Alves also spent 90 minutes on the pitch in Brazil's friendly against South Africa. Adriano didn't play.
MVP Pedro
Spain had an easy go of it tonight. La Roja only needed 22 minutes to score the opener. The goal was scored by Cazorla after Pedro's far-post shot was deflected by the Saudi Arabia keeper. In the next play, both Cazorla and Pedro linked-up for Pedro's first. Cazorla's shot was deflected and Pedro latched onto the rebound to make it 2-0.
Spain killed the game off in the second half. Just after the referee blew the starting whistle, Xavi, who was subbed in at the half, unleashed an exquisite shot to make it 3-0. Minutes later, a penalty committed on Monreal was converted by Villa. It was Villa's 52nd goal for Spain. Pedro concluded the scoring for his country before the 90 minutes were up.
Hulk decides for Brazil
The match between Brazil and South Africa was more even. Both sides battled it out for 75 minutes, but the deadlock was finally broken by Hulk with 15 minutes to go on the clock. Dani Alves, who was subbed out by Vilanova in Barça's last La Liga match, played the entire 90 minutes for his country. Adriano didn't play.