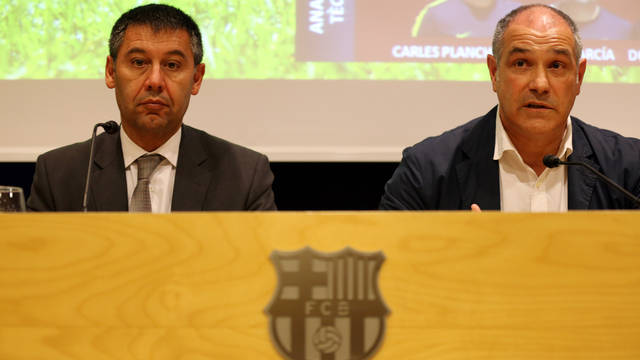 Vice-president Josep Maria Bartomeu and director of football Andoni Zubizarreta said that the transition from Guardiola to Vilanova has been successful
On Puyol's contract renewal: "We've had a first meeting to address the issue and I don't think we'll have a long negotiation process"
It's time to evaluate how the team fared during the summer transfer window. This morning, Club vice-president and Sports Area director Josep Maria Bartomeu and football director Andoni Zubizarreta talked about FC Barcelona's current roster, Barça new manager and the team's two signings. "Tito embodies the success of the project, the decision was made to maintain normality within the Club. We're very pleased," said Zubizarreta. The question on the new FC Barcelona manager was the last in a 45 minute long press conference. "The fact that it took you so long to ask me about him is good news. It means that things are going well," said the football director.
Satisfied with the new players
Bartomeu praised both Jordi Alba and Alex Song, FC Barcelona's two summer signings, for how we'll they've performed since they arrived at Barça. "Alba has made a quick transition. Perhaps he had a bit of an advantage because he plays for the national team, he knows the Liga and he was a Barça youth player," said Bartomeu. On Song, the director noted that "we're very pleased that he's been able to learn our system so quickly."
Puyol and Messi
Zubizarreta also talked about Puyol and Messi's contracts. On the Barça captain, Zubizarreta recognised that "we've already had a first meeting and I don't think we'll have a long negotiation process," he added that Puyol's contract renewal process "needs to be delicate, because of the player's age and his dedication to the Club."
On Messi, whose contract is up in 2016, Zubizarreta was clear that the Club "is not worried" and that "any Barça fan would want Messi on the team."
Bartomeu also cleared the air in relation to reports about David Villa. "We haven't received emissaries from any club" asking for Villa. He added that Barça showed no interest in signing Fernando Llorente this summer. Bartomeu also noted that Alex Song "was always the Club's first option," ahead of Javi Martínez.
AC Milan: option to buy Bojan
The vice-president also talked about Bojan, who was sold to Roma last season, and was loaned to AC Milan this summer. "We can't talk about numbers, but we signed an agreement with Milan that gives us an option to buy the player, we also have have an option to block the transfer of the player to another club," said Bartomeu. It's worth noting that Bojan was sold to Roma for 12 million euros and that FC Barcelona can buy back the player next summer for 13 million.