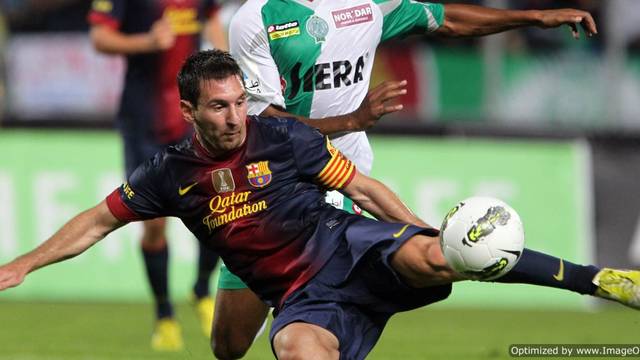 The Argentine, in an interview with ESPN Deportes Magazine, opens up about his aspirations for the 2012/13 season, the Guardiola-Vilanova transition, and his career in the Champions League
""I've always said that Tito Vilanova was the ideal man to take over for Guardiola. I believe he's the best manager for this team and for the Club"
"I'm as eager as ever," said Leo Messi to Enrique 'Quique' Wolff in an interview with ESPN Deportes Magazine. In the interview, which just hit South and Central American news stands (digital copy here; note: version optimized for tablets), the Argentine talks about Guardiola's impact on FC Barcelona, the transition to Tito Vilanova, his aspirations for the current year, and his career in the Champions League.
Josep Guardiola's FC Barcelona
"Guardiola changed everything," said Messi when asked about the manager that ushered in the most successful era in FC Barcelona history. "We were coming off of two years without winning anything, the mood in the dressing room wasn't good; it was sad. He is very intelligent. Not only did he prepare us for matches brilliantly, but he also knew what to say to us on an individual level."
The Argentine added: "You went into every match knowing what you had to do, you knew what had to be accomplished to get the job done. Guardiola knew how each and every opponent was going to play. He always prepared us to build the play up from the back and focus on going forward. That's a beautiful thing for players that like attack-minded football."
Tito Vilanova named head manager
At the end of last season, Guardiola announced that he would not continue on the Barça bench. Sandro Rosell and Andoni Zubizarreta, in Guardiola's farewell press conference, announced that Tito Vilanova would take the reigns from the outgoing manager. "I've always said that Tito Vilanova was the ideal man to take over for Guardiola. I believe he's the best manager for this team and for the Club. Things have gone well for us in the past, there's no reason to change [our approach] now," said Messi.
Hopes for the future, remembering the past
When asked about last season, Messi noted that "last season was unforgettable, though I would have liked to finish with fewer goals and more titles. Hopefully this season will be similar. I don't have a specific number of goals in mind that I'd like to score this year. The more goals the better, the more titles, even better."
Messi also admitted that he would have liked to play in the 2006 Champions League final in Paris: "I thought that I would at least be on the bench, maybe get a couple of minutes of playing time." He added: "at the time I didn't feel the victory all that much, but after the game I said to myself 'what am I doing, of course I can celebrate!' You never know if you'll be able to experience another moment like that."
Little did Messi know that he would go on to feature in two Champions League finals, the first in 2009 and the second in 2011. Before the first final against Manchester United, another Argentine – Gabi Milito – pulled the (not yet) three-time Ballon d'Or aside and told him: "he told me 'be calm, you're going to score a goal.' I didn't know which British team we had just played against… [Arsenal] but people were saying that I had never scored against a British team." Milito's words proved true. Messi went on to score the championship-winning goal against Manchester United in the 2009 Rome final, and then went on to do it again, against the same team, in the 2011 final.