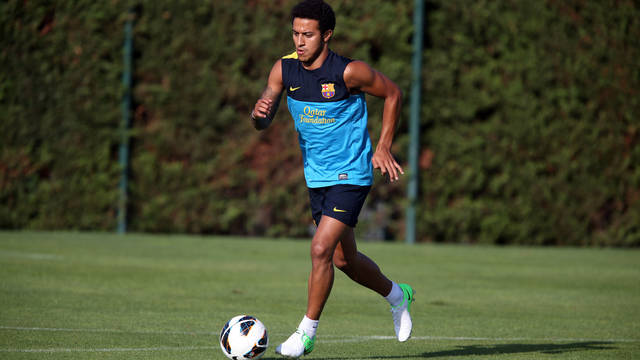 The five available first team players -Puyol, Fontàs, Thiago, Dos Santos and Pinto- trained this Wednesday afternoon without their international team-mates
Barça B's Quintillà, Bañuz, Dongou, Patric, Miguel Ángel, Juan Ángel, Gustavo and Espinosa participated in this afternoon's session
After enjoying three days off, the first team returned to work without its internationals. Puyol Fontàs, Jonathan dos Santos and Pinto, the five available first team players, trained this afternoon at the Ciutat Esportiva Joan Gamper. Barça B players Quintillà, Bañuz, Dongou, Patric, Miguel Angel, Juan Angel, Gustavo and Espinosa also trained this afternoon with the first team.
Internationals return on Wednesday
The team will train on Wednesday afternoon, at 19.00. Most of FC Barcelona's internationals should be back for tomorrow's training session, with the exception of the South American players, who will join the team on Thursday.