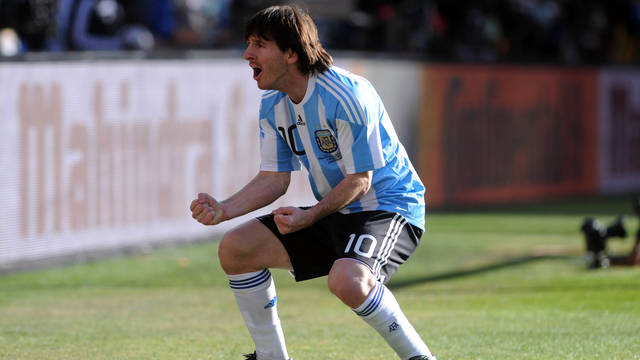 The Barça internationals are involved in several important qualifying matches for official competitions this week
Cameroon are looking to go to the 2013 African Cup of Nations, Spain, Chile and Argentina are seeking berths at the 2014 World Cup and the Spain U21 team has its eye on the next European Championship
Some of the international matches this week will have a huge bearing on whether the respective Barça players will be going to major tournaments or not. Fifteen players are contesting slots at the 2014 World Cup (as Brazil is the host nation, Alves and Adriano are already guaranteed places), the 2013 African Cup of Nations and the U21 European Championship.
The road to Brazil
Valdés, Piqué, Cesc, Xavi, Villa, Iniesta, Busquets, Pedro and Jordi Alba start the week with a friendly in Pontevedra against Saudi Arabia, managed by former Barça boss Frank Rijkaard. Their World Cup bid starts on Tuesday away to Georgia in Tbilisi. The other teams in Spain's group are France, Belarus and Finland.
Argentina, with Messi and Mascherano in the team, have two more games in the CONMEBOL qualifying zone this week. They start at home to Paraguay in Cordoba on Friday and then travel to Lima to face Peru on Tuesday. Argentina are currently third with ten points from five matches and will fancy their chances against the two teams currently occupying the bottom two places in the nine-team group
Alexis Sánchez's Chile are currently top of that South American section with twelve points from six matches. They only have one qualifying match this week, on Tuesday in Santiago against sixth placed Colombia.
Two friendlies for Brazil
Brazil, of course, are hosting the 2014 finals, and therefore qualify automatically. Instead, Dani Alves and Adriano will be involved in two friendly fixtures. The first is against South Africa on Friday in Sao Paulo, and on Monday they entertain China in Recife.
Make or break time for Cameroon
After missing out on the previous finals, Alex Song's Cameroon are aiming to qualify for the African Cup of Nations. Having beaten Guinea-Bissau in the previous round, they now face a direct elimination tie against Cape Verde, with the winners going to South Africa for the finals in 2013. On Saturday, Cameroon will play in the capital of the archipelago, Praia, and they will welcome the islanders to Yaoundé in October for the second and decisive leg.
Under 21s also in action
Finally, there are also two Barcelona first team players, Bartra and Montoya, who have been called up for the Spanish U21 team for the last two matches in their qualifying group for the 2013 European Championship in Israel. With six wins out of six, Spain are five points clear at the top of their group, and a draw against Switzerland in Sion would be enough to ensure direct qualification without the need of a playoff. And they still have another game to come against Croatia in Alicante the Monday after. Barça B's Tello, Sergi Roberto, Deulofeu and Planas have also been included in the squad.