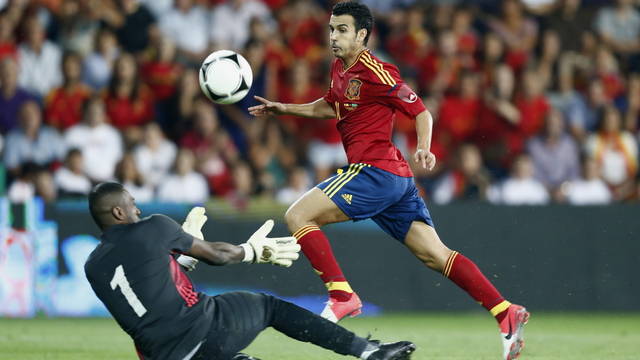 The Canary Islander has scored twice for Barça and twice for Spain already this season, his best start to a campaign ever
Pedro has got off to a stronger start than ever, scoring four times already. He got his first two in FC Barcelona's first two official matches of the season, against Real Sociedad in La Liga (5-1) and Real Madrid in the first leg of the Spanish Supercup. (3-2). He followed that with a brace on Friday night in the friendly against Saudi Arabia, where he was one the most outstanding stars for Spain (5-0). All in all, it looks like this could be a very good season indeed for the young striker.
Showing form
After a few months of irregular performances due to injuries, Pedro ended last season as he's started this one – scoring goals. He got two braces at the end of the 2011/12 season, in La Liga in the 7-0 win over Rayo and against Athletic Bilbao in the cup final, goals that helped him make Del Bosque's Euro 2012 squad, where he helped his country to its second successive title.
Better than ever
This season is very similar to his breakthrough in 2009, when he also started the season with a crucial Spanish Supercup goal, that time in a 2-1 win against Bilbao, and shortly after doing that he found the target in extra time to win the European Supercup against Shakhtar Donetsk (1-0). He ended that campaign with 23 goals.