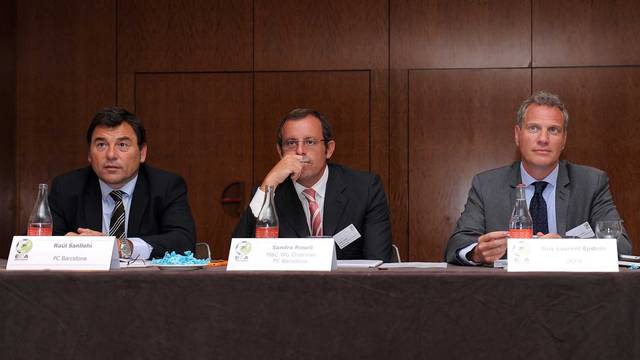 FC Barcelona is one of the 575 European clubs that are eligible for compensation for loaning out players to national teams for the Poland and Ukraine Euro
European clubs will be compensated for the transfer of their players to national sides for the EURO thanks to the agreement between the ECA (European Club Association) and UEFA. Clubs will be compensated for loaning out their players for both the qualifying stage and the final stage of the European championship. Of the 575 European clubs eligible to receive compensation, Barça will be the third-most compensated club with 2,210,202 euros.
FC Barcelona president and vice-president of the ECA, Sandro Rosell, actively participated in the negotiations with UEFA in which it was agreed that 100 million euros would be distributed among the 575 eligible European clubs. The increase in benefits is substantial in comparison to the last edition of the EURO.
In addition, the players that participated in the qualifying phase and the final phase of the competition were covered by insurance paid for by UEFA in the event of injury. FIFA will take charge of the insurance coverage on September 1.
The proposal to increase the overall compensation pool to 150 million euros will be addressed at the ECA meeting held in Geneva on Monday and Tuesday.