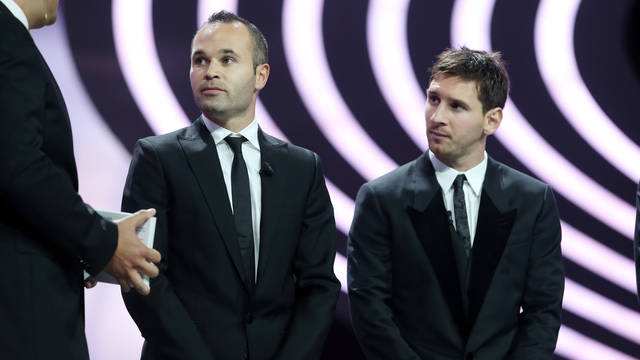 The midfielder and the forward sat down with uefa.com after the group draw in Monaco to discuss Barça's upcoming Champions League campaign
Iniesta: "We have a new coach, a new way of doing things, and we're very happy about Vilanova being with us. He knows us very well, and I'm confident that things will go well"
Leo Messi: ""I don't think there are easy groups in the Champions League, I think all the opponents are complicated"
Andrés Iniesta, winner of UEFA's Best Player in Europe Award, and Lionel Messi sat down with uefa.com in Monaco after the Champions League Group Stage draw in August. The two Azulgranas are eager to improve on last year's trophy haul (Spanish and European Super Cups, Club World Cup, Copa del Rey) and are especially motivated by the fact that the Champions League final will be hosted at Wembley this year.
Guardiola-Vilanova transition
Josep Guardiola led Barça to two Champions League crows (and four semi-final berths) during his four-year tenure at the Club. This year, however, it's Tito Vilanova pulling the strings on the Barça bench. "Everybody is different, it's not just Tito Vilanova and Pep Guardiola. Everyone has a different way of expressing themselves. The philosophy and the method of work is basically pretty similar. But we have a new coach, a new way of doing things, and we're very happy about him being with us. He knows us very well, and I'm confident that things will go well," said Iniesta.
Last year's semi-final against Chelsea
When asked about last year's semi-final fixture against Chelsea, Iniesta said: "I think we basically did everything well, the only thing is that they scored their goals in extra time both away and at home. We were close to making it into the final, just that bit of luck was missing. It just wasn't going to happen. Chelsea did an exceptional job and took advantage of their chances. If nothing else, we can learn from this."
Messi agreed with his team-mate in that the tie between the London-based side and the Azulgranas was very close: "We were lucky enough to win the Super Cup, the Club World Cup, the Copa del Rey, these are all important competitions. Obviously we didn't win the Champions League and the Spanish League like people expected. The elimination against Chelsea was a very close one and I missed that penalty. But this year we are going to try again, and we are ready to try and win it."
Gunning for glory at Wembley
Wembley will host the final of the Champions League this year, a stadium that saw two FC Barcelona teams lift the European club titles (1992 and 2011). Messi, who is eager to get this year's Champions League campaign underway, warned of the difficulty that awaits his team in the group stage: "I don't think there are easy groups in the Champions League, I think all the opponents are complicated. It seems like some groups are more complicated than others but it's all decided on the pitch. You have to play the matches first, we know from experience that every team can make it complicated for you, they are difficult games."
"Wembley is important to Barcelona because we won two Champions League trophies there," said Iniesta. While the midfielder admitted that Barça are "focused on getting to the final," he also shares his team-mate's caution: "there's still a very long road ahead of us. Football today is so balanced out that's it pretty difficult to make it into the final and win it, but we take it with anticipation."