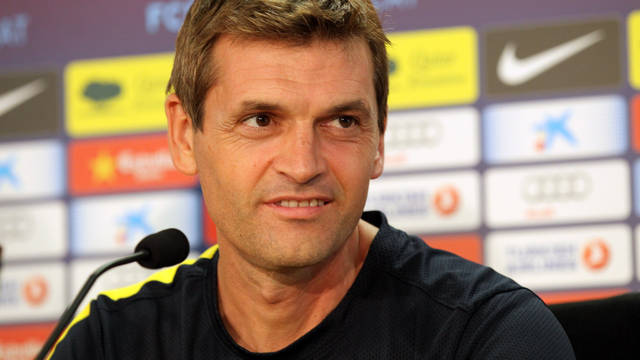 Just a few hours before the 2012-2013 season kicks off, the Barça manager is aiming high and told reporters today: "We have a good enough team to win any match"
After several weeks of preparations, Tito Villanova's Barça side get their league campaign going on Sunday against Real Sociedad in the Camp Nou at 9 pm. Speaking on Saturday morning at the last press conference before Sunday evening's match, Vilanova was looking relaxed despite the huge expectancy surrounding his debut, and told reporters: "I don't feel pressured".
"It's difficult for us to get going"
However, in spite of his customary calm exterior he admitted that he couldn't help being a little anxious about how his players would respond in the first league match of the season, given Barça's often indifferent start in recent seasons: "It's difficult for us to get going. Our preparation is different because what we want to do is maintain the same level throughout the year. At the beginning we may start a little behind the rest but the quality of these players will reach where the preparation doesn't".
Ambition from day one
Clearly Vilanova has complete faith in his players and he made it clear today that his ambition for the team has no limits: "I'm hoping to win it all, that's what I'm hoping for this season. We have a good enough team to win any match. We'll have to think one match at a time. Barça is used to winning everything, especially in the last few years. We have to try and keep the ball, have the ambition to win and know who we are competing against".
Finally, he insisted that the players have the same level of ambition as last season: "Last season we won four titles including the World Club Championship. We certainly did win, and a lot. And they look just as ambitious to me as always".