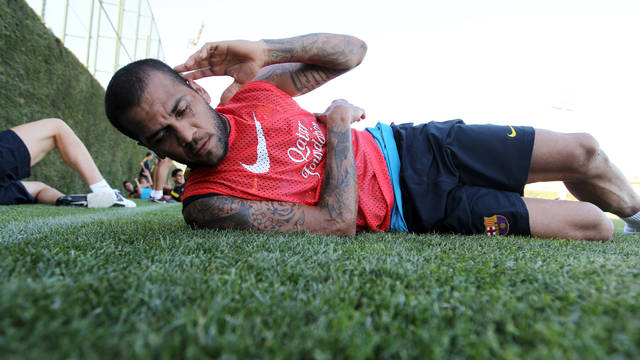 The Brazilian defender considers that Barça, world champions, are still the team to beat
Dani Alves says that he's as eager as ever to win the Liga title and he made no excuses for last season's second place finish
"We're still the team to beat because we're the best team in the world. We're the ones that have the logo on our shirts that distinguishes us as world champions. We lost the Liga and we have to try and win it back, we know it's going to be difficult," said Dani Alves in today's press conference.
On FC Barcelona's La Liga title bid, the Brazilian said: "I'm as eager as ever. If we lost the last Liga title it's because we weren't as good as the team that finished first. There are no excuses in this Club, we have to improve." The defender added that "it's all the same to me if we're defending a title or trying to win it. I'm comfortable knowing that the team is competitive, that we have the capacity to fight for all of the titles."
Satisfied with the team
The Brazilian is convinced that Barça will be able to meet all of its challenges this season: "the team is ready and starting off on the right foot gives you more confidence for the rest of the season. It's difficult to find the right balance if you start with doubts." It's important for Alves to start the season with a victory, because "it would prove that we're in it to win it." He added: "it doesn't matter if we have a lot of players on the roster. Every player must bring something to the team, that's the important thing. That's why we're calm and ready for the season to start."
In good hands
One of the reasons the players are positive about the team's chances this season is due to Tito Vilanova's leadership. The defender gave his take on the transition to the new manager: "Pep left us in good hands. There will be continuity to his work. I'm sure that the athletic project will be reinvigorated and that the players will be eager to do important things."
The Azulgrana defender is set to start his fifth season with a new mentality, seeing that he's almost 30. "I feel great. I'm a footballer that, thanks to my physique, can keep on going for many years," said Dani Alves.