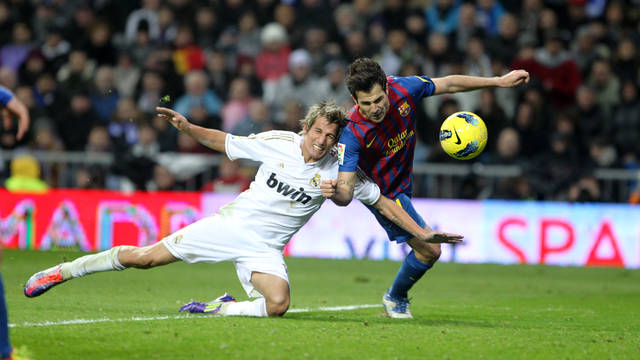 This Wednesday marks a year since Cesc Fabregas returned to the Camp Nou and it's been an explosive start to his first team career with some memorable goals
On August 15th 2011, Cesc Fàbregas' dream of a return to the Camp Nou came true. His desire to sign for Barça had been no secret over the previous summers, but last year the then Arsenal captain, the London club and the Club where he'd learnt his trade as a youngster finally reached a deal to bring him home. Cesc was the Club's second signing of the summer – after Alexis – and more than 30,000 turned out for his official presentation. Minutes before that presentation, Cesc had described his move as "the biggest challenge of my life".
Three titles to start with
Handed the number 4 shirt, Cesc made a spectacular start to the season, winning the Spanish and European Super Cups and the Club World Cup in his first four months, scoring his first goal against Madrid in the Spanish Super Cup, then chalking up another in the European Super Cup win over Porto in Monaco. He settled into the team almost immediately and he was the second highest scorer in the first part of the season with key goals such as against Madrid at the Bernabeu (1-3) or against Santos in the final of the Club World Cup (4-0).
Cup and Euro success
Although his goal scoring feats slowed down in the second half of the season, he confirmed his position sitting just behind the front men, or a s a false number nine, able to create chances for the rest of the team., Cesc finished the season with 15 goals in 48 games (scoring in 5 of the 6 competitions he played in) and a Spanish Cup winners medal.
The Spanish Cup wasn't the last thing that Cesc won though, as he played a key part in Spain's Euro 2012 victory. Like the rest of the European champions, Cesc joined up with the rest of the squad late, but Tito Vilanova knows what Cesc is capable of from his time working with him in the academy and will be counting on him as he begins his second year back home at Can Barça.