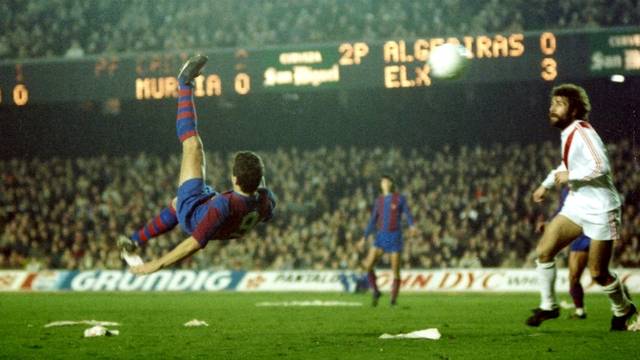 The Austrian striker scored five goals against Rayo Vallecano in a 9-0 win in the 78/79 season, which he ended as top scorer
Barça also won the European Cup Winners Cup in Basel that year
Leo Messi is incomparable. His cunning skill, his ability to read the way the team plays, his goalscoring touch, his passion for the game … It is simply impossible to find fault in possibly the most dazzling player that ever graced the game. And he just can't stop breaking records. No Barça player has ever scored five goals in a European fixture, and in fact, we have to go all the way back to January 14, 1979 to find the last occasion that anybody scored that many goals in any kind of match.
Two faced Barça
As part of the season that ended with Barça winning the Cups Winners Cup in Basel against Fortuna Dusseldorf, Barça under debutant Lucien Müller were famed for some stunning displays at home coupled with some inexplicable setbacks on the road. One of the most amazing displays of all at the Camp Nou was the 9-0 win against Rayo Vallecano, where the star was a very recent signing, Hansi Krankl, recent winner of the Ballon d'Or.
The game was only 61 minutes old when the Austrian, who had impressed at the 1978 World Cup in Argentina, had already scored five goals – and each time with his left foot. Wearing the same number nine as Leo Messi, he showed the Camp Nou just what an incredible acquisition they had just made. In the 88 official matches he went on to play for the club, Krankl scored 64 goals, and in that debut season of 78/79 he was the top scorer in Spain with 29 goals. In fact, it was those five against Rayo that first put him top of the chart, moving ahead of the likes of Quini (then of Sporting) and Santillana (Real Madrid).
No more away wins
"It was a very famous game. A phenomenal match", remembered Hansi Krankl years later on a TV show. "Our home games were great, especially for me as a goalscorer, but we had problems playing away". In fact, despite that convincing victory at the Camp Nou, Barça would not win any of their remaining nine away league fixtures. "It was a mental thing. We scored five against Zaragoza, and a week later we lost in Salamanca. Nobody understood it", manager Lucien Müller told 'Recorda míster' on Barça TV.
Müller, the first coach of the Josep Lluís Núñez presidency, didn't last until the end of the season, and it was Joaqium Rifé who led the team to the Basel final. Those were other times, when football was very different, when players wore moustaches and tattoos were unheard of. It was a time when the club was going through sporting and institutional difficulties, very different to the situation today, as Pep Guardiola pointed out to the press following the famous win against Bayer Leverkusen (7-1). The day that Leo Messi also scored five goals.