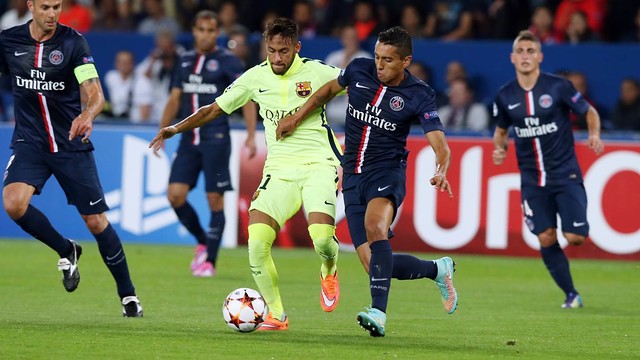 A look at the teams Barça could be facing in the first knockout round of the Champions League, pending the outcome of Tuesday and Wednesday's final matches in the group stage
Barça are already through to the last sixteen of the Champions League as winners of Group E. That means that the Catalans will be one of the eight seeds for the second round, and will play against one of the runners-up from the group stage.
Bayer Leverkusen, AS Roma or BATE Borisov are all still in contention for second spot in Group E, but the draw will keep Barça separate from those sides, and they won't be able to play any of the other clubs from La Liga either. That still leaves fourteen different teams that Barça could still potentially face – depending on what happens on Tuesday and Wednesday
Group A
This is the only group that's already decided. Real Madrid have clinched first place and Paris Saint Germain are second, meaning the latter will definitely be one of Barça's potential second round rivals. The Catalans faced the side from the French capital in the quarter finals last season, and also in 2012/13, and progressed both times.
Group B
Any of three clubs could end up in Pot Two from this tight group – Wolsfburg (who Barça have never played before), Manchester United (who Barça met in the final in both 2009 and 2011) or PSV Eindhoven (who Barça haven't played since the two 2-2 draws in the 1997/98 group stage).
Group C
Benfica and Atlético Madrid top the group with ten points each and go head-to-head at the Estádio da Luz on the final day. A draw would be enough for the Portuguese side to clinch top spot, leaving Atlético second, who Barça cannot play as Liga clubs will be kept separate. But if Benfica lose at home, they will be a potential second round rival.
VIEW ALL THE CHAMPIONS LEAGUE GROUP TABLES
Group D
Barça's opponents in last season's final, Juventus, can only miss out on top spot if they lose at Sevilla on the final day and Manchester City beat Borussia Monchengladbach. That means there's a very good chance of City ending up in Pot 2, meaning a potential third meeting in a row between them and Barça in the round of 16. In the last two editions, the Catalans progressed after winning both home and away.
Group F
Bayern Munich have won the group and Olympiacos are in a strong position to finish second. The Greek champions are currently three points ahead of Arsenal, who they host on the final day. After winning 3-2 at the Emirates in their first meeting, even if they lose that game, Olympiacos still have a good chance of qualifying by virtue of a stronger head-to-head record.
Group G
You might need a calculator handy as this group unfolds. Any of Porto, Chelsea or Dynamo Kyiv could either win the group or finish second. Julen Lopetegui's Porto and Jose Mourinho's Chelsea currently lead the way with ten points each. They meet at Stamford Bridge on the final day in what promises to be a gripping game. If Dynamo Kyiv beat Maccabi Tel Aviv, then the Ukrainians will be guaranteed one of the top two places regardless of events in London – so Chelsea need to win while a draw would suffice for the Portuguese.
Group H
The only team with a 100 per cent record in the competition, Zenit Saint Petersburg, are well clear at the top of a group that hasn't gone at all as people might have expected. Gent are now in second place, one point ahead of Valencia. The Liga side, who Barça can't be drawn against, now need to beat bottom-of-the-table Lyon at Mestalla on the final day and hope that Gent don't spring another surprise by beating Zenit.