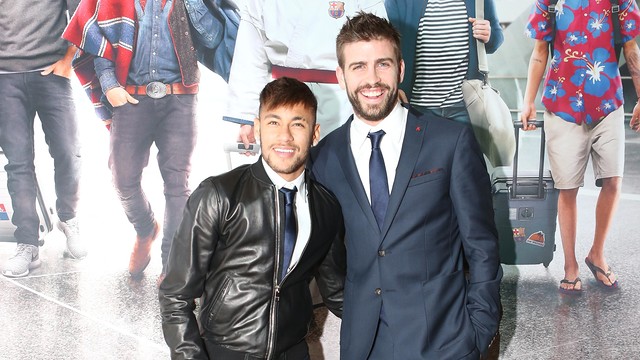 The centre half and Neymar spoke about the blaugranes current form at the presentation of the new Qatar Airways advert
Vice president Javier Faus defends the Board's management of the Club on a sporting and financial level
Gerard Piqué and Neymar, two of the stars of the new advert for Qatar Airways, answered question about the blaugranes' current situation in Doha where they were attending the presentation of the new video. "We have been in good shape in the last seven or eight matches, we are in good form in the league and the Cup, we have won a lot of games and generates expectation and confidence," said the Barça centre back.
Piqué was excited about what remains of the season: "Now the Champions League is coming up, the fixture list is tough but we are looking forward to it and I think we have the chance to do something big this season. We just have to keep the same level, keep getting results and get through the semi-finals of the Cup and in the league try to put pressure on [Real] Madrid, the leaders, so they drop points. We have to keep picking up three points."
Neymar, for his part, also touched upon the good form of the team and his own excellent form at the moment. "I feel very happy," he revealed, before commenting on his partnership with Leo Messi: "It's easy playing alongside him, for he is a great hero. Our understanding is getter better and better on the field."
On another subject, Piqué gave his opinion as a player on institutional matters at the Club. "I know that the more stable the Club is, the better it is for everyone. We have a responsibility and we know that is we get good results as a team then that will make life better for the Club," he declared.
Faus defends running of the Club
The first vice president of FC Barcelona, Javier Faus, explained that "Qatar understood very well that in sporting sense it was not the best time" to play the friendly match that had been arranged for this Wednesday, and he thanked Qatar for their understanding in the matter. Elsewhere, Faus reminded everyone at the Qatar Airways video presentation in Doha: "We are the world's leading club over the last 10 years thanks to various presidents, coaches and players. When you are so successful, it is only normal that there are things that don't go down well."
The Barça vice president defended the management of the Club in recent years: "We are very happy with what the team has done in the last five years and the economic situation in which we find ourselves. He ended by saying that the Club had turned around a "delicate" economic situation and that calm was required as in the end "on these matters the truth will end up coming out."