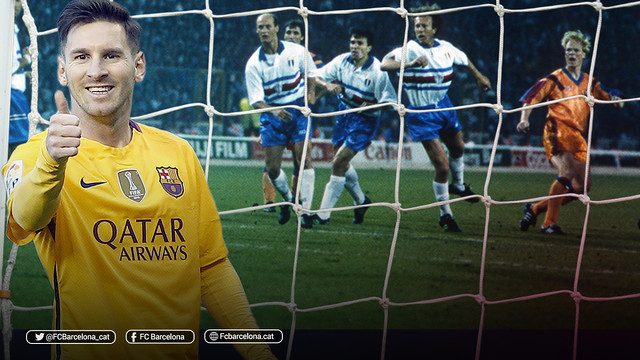 When it comes to set pieces, the Argentinian and the Dutchman are two of the finest aces the game has ever seen
Some wonderful players have worn the Barça colours over the years. But only a special few are revered as free-kick specialists. In the current team, there is no doubt who the star is in that particular department –Leo Messi is a veritable virtuoso who has scored an amazing 23 free-kicks for the team.
He's scored seven of those just this season. Three were against Sevilla (two in the European Super Cup and one in the league), and he got two against Espanyol (one in the cup and one in the league last weekend). His other two free-kicks this season were scored against the two Galician teams (Celta and Deportivo) in the league.
Sooner or later, the Argentinian looks set to match another historic free-kick specialist at Barça, the great Ronald Koeman. The Dutchman, who is now managing Southampton, scored 26 free-kicks in his time at FC Barcelona (23 directly and 3 indirectly).
The ability to score from free-kicks, whether it's by blasting the ball from long distance, by curving it around the wall or by whatever other means, is a skill mastered only by a chosen few. And in this video pays tribute to two of the finest exponents of the art. Enjoy!