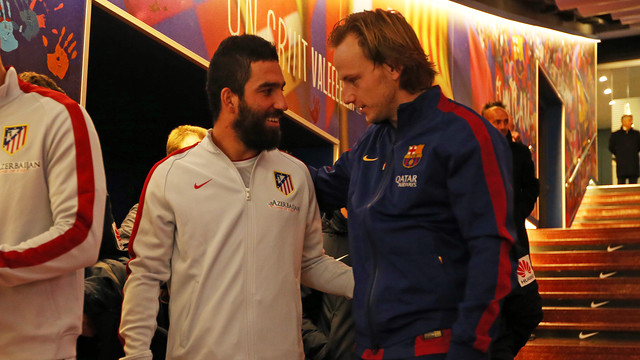 The Turk is the second foreigner to come to the Club via the Vicente Calderón
Johan Cruyff's 'Dream Team' brought in four players from 'los colchoeros'

Arda Turan is the tenth signing by FC Barcelona from Atlético Madrid. The arrival of the Turkish midfielder means that Barça have brought in a player from 'los colchoneros' for the first time in 12 years. The last player to make the trip from the Vicente Calderón to Camp Nou was striker Luis García, a player who had come up through the youth ranks at the blaugranes. He arrived in the summer of 2003 after just a season with Atlético. In 2007 he would return to Madrid for a two year spell.
Members of the 'Dream Team'
Up to four members of the famous 'Dream Team' squad came to Barcelona via Atlético. The first was defender Julio Alberto who played for nine seasons at Barça. The Asturian was signed in the summer of 1982 and then left in 1991 after having claimed the league title with Johan Cruyff's team.
Julio Salinas and Eusebio came from the Calderón in the summer of 1988, whilst Juan Carlos Rodríguez made the same trip in 1991. All played important roles in the four consecutive league titles won the 'Dream Team' and in the Club's first ever European Cup success.
The first four players to leave the capital for Catalan climes were the striker Marcos Alonso (1982-87), the Portuguese Mendonça (1967-69), defender Valcárcel (1939-40) and the midfielder Victoriano de Santos (1933-34).
10 blaugranes signed from Atlético
Name
Football name
Position
Years at Barça

Victoriano de Santos
De Santos
Midfielder
1933-1934
Miguel Ángel Valcárcel
Valcárcel
Defender
1939-1940
Jorge Alberto Mendonça
Mendonça
Striker
1967-1969
Marcos Alonso
Marcos Alonso
Striker
1982-1987
Julio Alberto Moreno
Julio Alberto
Defender
1982-1991
Julio Salinas
Salinas
Striker
1988-1994

Normal
0

21

false
false
false

ES
X-NONE
X-NONE

/* Style Definitions */
table.MsoNormalTable
{mso-style-name:"Tabla normal";
mso-tstyle-rowband-size:0;
mso-tstyle-colband-size:0;
mso-style-noshow:yes;
mso-style-priority:99;
mso-style-parent:"";
mso-padding-alt:0cm 5.4pt 0cm 5.4pt;
mso-para-margin-top:0cm;
mso-para-margin-right:0cm;
mso-para-margin-bottom:10.0pt;
mso-para-margin-left:0cm;
line-height:115%;
mso-pagination:widow-orphan;
font-size:11.0pt;
font-family:"Calibri","sans-serif";
mso-ascii-font-family:Calibri;
mso-ascii-theme-font:minor-latin;
mso-hansi-font-family:Calibri;
mso-hansi-theme-font:minor-latin;
mso-fareast-language:EN-US;}

Eusebio Sacristán

Eusebio
Midfielder
1988-1995
Juan Carlos Rodríguez
Juan Carlos
Defender
1991-1994
Luis García
Luis García
Striker
2003-2004
Arda Turan
Arda Turan
Midfielder
2015-
Normal
0
21
false
false
false
ES
X-NONE
X-NONE
Normal
0
21
false
false
false
ES
X-NONE
X-NONE
/* Style Definitions */
table.MsoNormalTable
{mso-style-name:"Tabla normal";
mso-tstyle-rowband-size:0;
mso-tstyle-colband-size:0;
mso-style-noshow:yes;
mso-style-priority:99;
mso-style-parent:"";
mso-padding-alt:0cm 5.4pt 0cm 5.4pt;
mso-para-margin-top:0cm;
mso-para-margin-right:0cm;
mso-para-margin-bottom:10.0pt;
mso-para-margin-left:0cm;
line-height:115%;
mso-pagination:widow-orphan;
font-size:11.0pt;
font-family:"Calibri","sans-serif";
mso-ascii-font-family:Calibri;
mso-ascii-theme-font:minor-latin;
mso-hansi-font-family:Calibri;
mso-hansi-theme-font:minor-latin;
mso-fareast-language:EN-US;}
table.MsoTableGrid
{mso-style-name:"Tabla con cuadrícula";
mso-tstyle-rowband-size:0;
mso-tstyle-colband-size:0;
mso-style-priority:59;
mso-style-unhide:no;
border:solid windowtext 1.0pt;
mso-border-alt:solid windowtext .5pt;
mso-padding-alt:0cm 5.4pt 0cm 5.4pt;
mso-border-insideh:.5pt solid windowtext;
mso-border-insidev:.5pt solid windowtext;
mso-para-margin:0cm;
mso-para-margin-bottom:.0001pt;
mso-pagination:widow-orphan;
font-size:11.0pt;
font-family:"Calibri","sans-serif";
mso-ascii-font-family:Calibri;
mso-ascii-theme-font:minor-latin;
mso-hansi-font-family:Calibri;
mso-hansi-theme-font:minor-latin;
mso-fareast-language:EN-US;}