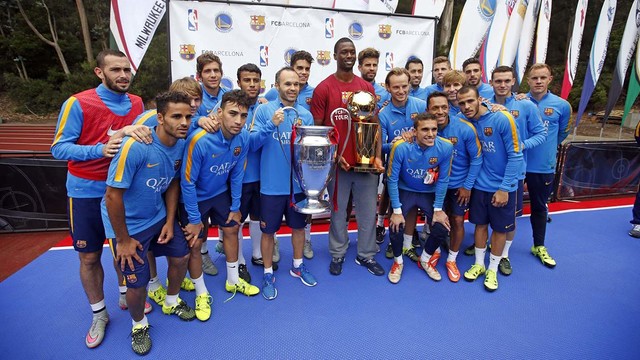 Harrison Barnes from the Warriors and the blaugrana players tested out their skills at San Francisco State University

Barça have once again strengthened their links to the NBA. This time with no more, no less the current champions of the North American basketball league, Golden State Warriors. A delegation from the NBA final winners, led by one of their star players Harrison Barnes, took part in an event with the Barça first team players. Harrison Barnes was accompanied by Raymond Riddler, vice president of Communications and Public Relations at the franchise, as well Jeff Addiego, the director of Basketball Operations.
The basketball hero Barnes showed Sergio Busquets, Iniesta and Gerard Piqué one or two tricks to improve their game with the ball in their hands. The three Barça players tried their hand at long range shooting, Gerard Piqué showing himself to be the handiest blaugrana with a basket from a fair distance away, something that eluded his team mates.
Before the basketball training lesson there was shooting from the three point line for the squad, cheered on by a Harrison Barnes acting as coach. Marc Bartra answered questions from the media before wandering back to the court, picking up a loose ball and finding the basket from a good 15 metres away, much to the delight of the press and his team mates.
Official welcome
After the fun and games were over, the squad had their photographs taken with Barnes, the NBA trophies and the Champions League trophy. The coming together of champions and the traditional exchanging of shirts caused great interest from the media gathered at Cox Stadium for the occasion.