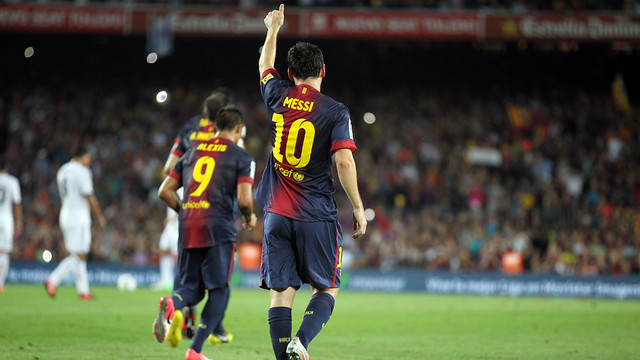 The Argentinean, at 25, is level on goals with the ex-Sevilla player Juan Arza as the 10th all-time scorer in La Liga history
The Top-10
251 goals
Zarra (Athletic Club)
234 goals
Hugo Sánchez (Atlético, Madrid and Rayo)
228 goals
Raúl (Madrid)
227 goals
Di Stèfano (Madrid and Espanyol)
223 goals
César (Granada, Barça, Cultural and Elx)
219 goals
Quini (Sporting and Barça)
210 goals
Pahiño (Celta, Madrid and Deportivo)
195 goals
Mundo (Valencia and Alcoià)
186 goals
Santillana (Madrid)
182 goals
Messi (Barça) and Agra (Sevilla)
Leo Messi keeps on breaking long-standing records. The Argentinean, with his two goals against Rayo Vallecano this evening, has netted 182 career goals in La Liga, making him the all-time 10th highest scorer in La Liga history. The Barça player is level on goals with Juan Arza, the player that donned the Sevilla strip from 1943 through 1959. Messi is only four goals back from Santillana (186 goals), who played for Madrid for 17 seasons. Zarra (Athletic Club) currently holds the record with 251 goals.
The third best average
Of all the players in the Top 10, Messi has the third best goalscoring average with 0.82 goals per match. He's only bested by the record holder Zarra (0.91) and eighth-place Mundo (0.84). Messi's average is better than other legendary La Liga forwards like Raúl (0.46), Quini (0.49), and Arza (0.52).
13 hat-tricks and 2 quadruples
Messi has scored his 182 goals in 223 official La Liga matches. The end-of-season goal tallies that he's put up, with a couple of small exceptions, have increased over time. Since the 2004/05 season, when he scored his first goal – against Albacete (2-0)- he's scored 6, 14, 10, 23, 34, 31 and 50 goals, respectively, each season.
This year, after nine matchdays, he's netted 13 times. If he continues at this pace, he'll end the season as La Liga's sixth or seventh all-time scorer.
Atlético and Diego Alves, his favourite victims
Atlético Madrid are the team that Leo Messi has scored the most on throughout his career. Up until now, he's netted 15 times against Los Colchoneros, three more than he has against Racing Santander (12) and four more than he has against Sevilla and Zaragoza (11). Diego Alves, who's conceded 11 goals to the Argentinean, is the keeper that has conceded the most goals to Messi, ahead of Iker Casillas (10).
The Argentinean has scored a total of 13 hat-tricks and 2 quadruples – against Valencia and Espanyol, both times last season. Is there a record that Messi cannot break?