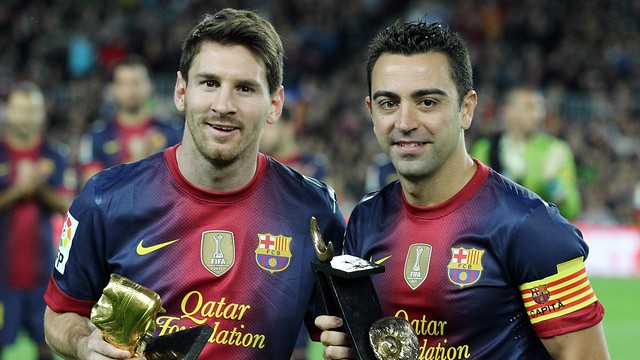 Leo Messi sits down with El Mundo Deportivo for a rapid-fire interview, r/Barça takes note of Tito Vilanova's line-ups this season, and Sergio 'El Kun' Agüero recounts his first encounter with Messi
• "Barça is my home" – Leo Messi
Leo Messi sat down with the Barcelona-based sports news outlet, El Mundo Deportivo, for a uniquely structured interview where Joan Josep Pallàs posed one-word questions to the three-time Ballon d'Or winner.
When asked about Xavi Hernández, Messi said: "Besides being a good player he's an amazing human being, I hold him in high esteem. We've been together for a long time and the truth is that we're good friends." The Argentinean also had words for Xavi's best partner in the Barça midfield, Andrés Iniesta: "He's the same as Xavi. They both play very similar styles of football. Andrés is a spectacular player and as a person he's humble and not complicated. He's a great person.
"Barça is my home. I've been at the Club for a long time. Since I was a child, I've experienced a lot of beautiful things [at Barcelona]. I grew up at the Club, in this city. I have great affection for Barça," said Barça's number 10 when asked about FC Barcelona.
Mr. Pallàs also asked Messi about a Real Madrid's Portuguese contingent. "Cristiano is a fantastic player, I don't know him personally but he's one of the best footballers in the world," said Messi on Cristiano Ronaldo. On Jose Mourinho and Pepe, Messi defined the man in charge at Madrid as "a brilliant manager" and the centre back as "a great defender."
You can watch the interview in its entirety here.
• Tito's line-ups in Barça's 16 matches this season
Tito Vilanova hasn't repeated the same starting XI once so far this season. The folks over on Reddit's r/Barça – egcg119 to be precise – have kept tabs on the players Tito has named to the team's starting line-ups. The results are a bit eye-opening.
Check out all of Tito's starting teams here.
• Sergio Agüero explains his first encounter with Messi
In an interview with DirectTV Sports, Sergio Agüero recounts how he met Leo Messi before an international friendly in The Netherlands. What makes the encounter interesting – and rather comical – is the way El Kun, who had no idea who Messi was at the time, tells the story.
Watch the entire interview here.